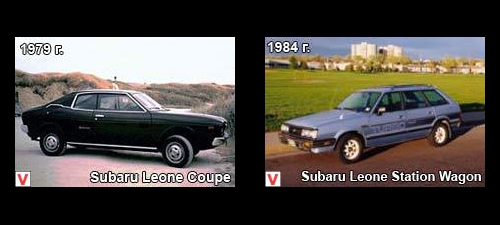 The Subaru Leone model is a subcompact car that was produced by the Japanese car company Subaru from 1971 to 1994. During all this time, the model has received a number of modifications and complete sets in various bodies. For the history of the Leone lineup, three generations of these cars were released. Subaru Leone has replaced the model called Subaru FF-1. In June 1971, the release of the first generation of Subaru Leone cars started.
The first representative of this model range was the front-wheel coupe. And in September 1972, the all-wheel drive version in the 5-door station wagon went on sale. However, sales of all-wheel drive models in the US markets began only in 1974.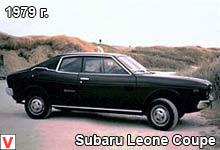 In those days, four-wheel drive was usually used for SUVs, but Subaru broke this tradition by launching a four-wheel drive family car. Subaru also introduced the Leone model and a 4-door sedan. For the first-generation Subaru Leone cars, two engine options were proposed: four-cylinder flat-4 OHV EA63 carbureted engines with volumes of 1.4 and 1.6 liters. The choice offered two options for the transmission: 4-speed and 5-speed manual gearboxes. And since 1975, a 3-step "automatic" appeared in the list of proposed transmissions. In 1976, the EA63 was replaced by a new modification - the EA71. In 1977, the Subaru Leone model underwent minor external changes, and also received a new dashboard.
In June 1979, the Subaru Leone model received the first major updates, marking the release of the second generation of these cars. Also appeared in the three-door hatchback version. In the United States, the second generation Leone appeared only in 1980. In addition to external changes, it is worth noting the appearance of an all-wheel drive automatic transmission, in which it was enough to press a button to connect all-wheel drive. Since 1980, the new 1.8-liter EA81 engine has been used for Subaru Leone. The release of the second-generation Subaru Leone continued until 1985. The third generation of Subaru Leone cars appeared in July 1984.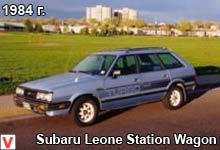 Updated versions received new models of four-cylinder engines with volumes of 1.6 and 1.8 liters. Also later appeared versions with a 4-speed automatic transmission and permanent all-wheel drive. In 1990, in the markets of Chile, North America and Canada, Subaru Leone cars were renamed Loyale. In 1994, the production of Subaru Leone was completed.
Replaced versions in sedan and hatchback came the Subaru Impreza model in similar bodies.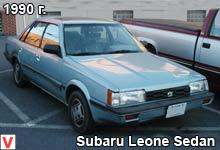 Other autos category Subaru