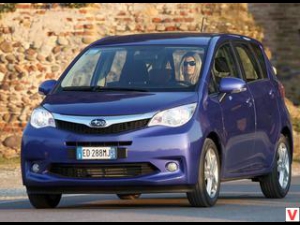 Debut Subaru Trezia was held in 2010. The car is a joint development of an alliance between Subaru and Toyota. Trezia is a compact, city car in the back of a 5-door hatchback. As the automaker says, the development of such an unusual model for the brand was dictated by an increasingly intrusive fashion for compact cars.
The car has a decent internal space with a length of 3990 mm. The width of the machine - 1695 mm, height - 1595 mm. The wheelbase is 2550 mm. The Trezia is a converted Toyota Verso-S (or Ractis for Japan). The differences between the two cars only in the exterior and interior. And then they are so minimal that they can be distinguished only after a meticulous research. The main differences in front of the car.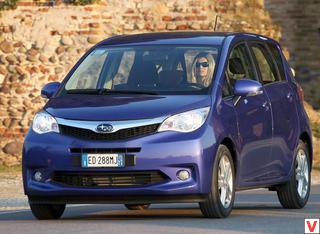 Trezia has acquired a new optics, bumper and hood. There are practically no changes behind the back; only a chrome insert in the fifth door appeared. The interior was not touched at all, only brand nameplates were replaced here. Subaru Trezia is available in 4 trim levels: i, L, S and Type Euro. The interior is verified with extreme clarity.
Emphasis was placed on the convenience of the driver. Hence, a large number of different niches for small things. Like the Toyota Verso-S, the Subaru Trezia can be equipped with front-wheel or all-wheel drive. Under the hood, one of the two 4-cylinder engines with distributed fuel injection, with a capacity of 1.3 hp and 99 hp.
(126 Nm) or 1.4 liter turbodiesel (90 hp, 205 Nm). The diesel version has a good economy - a car consumes only 4.3 liters of fuel per hundred mileage. Subaru Trezia will be equipped with a six-speed manual gearbox and a CVT. Trezia is one of the few Subaru that boasts environmental friendliness.
The level of harmful emissions into the atmosphere is only 113 g / km. The top version of Subaru Trezia - 1.4i Type Euro has light alloy wheels, a sports suspension, improved interior trim materials and other options. With a length of less than 4 meters, a fairly spacious interior, low emissions of harmful substances into the atmosphere and good basic equipment, the new Subaru becomes a worthy competitor in the compact car segment. Most likely, the car will be sold only in the domestic Japanese market, since in Europe Subaru Trezia will compete first and foremost with its sister sister Toyota Verso-S.
However, according to preliminary information, Subaru plans to release a slightly modified version, featuring different suspension settings and a sporty character.
Other autos category Subaru