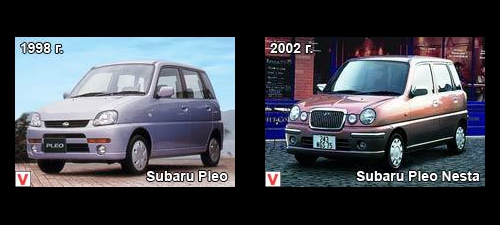 The Subaru Pleo is a compact car in the keicar class 5-door body (Japanese car class, which implies low-power city cars that are strictly limited in size and which are subject to tax breaks in Japan), which was first introduced by the Japanese car company Subaru in 1998. Sales of this small car started in Japan on October 9, 1998. This model has replaced the previously released "subcompact» Subaru Vivio. In order to create additional space in the cabin, taking into account the rigid restrictions on the length and width of the car, the height of the body has been increased.
As a result, the dimensions of the body turned out to be the following: length - 3,395 mm, width - 1,475 mm, height - 1,550 mm. The wheelbase of the car is 2 310 mm. Under the hood of the Subaru Pleo, a 0.7 liter engine is installed, whose power is 46 hp.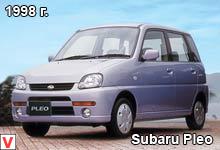 The same engine was used in the Subaru Vivio model. It should be noted that this power unit can be equipped with a turbine, which allows to increase its power up to 64 hp. As for the transmission, the Subaru Pleo car can be equipped with either a CVT (CVT) or a five-speed manual transmission. Despite the low power, the maximum speed of the car is 130 km / h.
The front suspension "subcompact" consists of depreciation racks, and the rear is based on coil springs. The braking system includes ventilated front discs and rear drum brakes. Standard power equipment also includes power steering.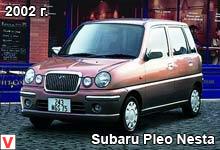 The cabin of the 5-door Subaru Pleo provides comfortable accommodation for four passengers. Rear passengers due to the raised seat provides an excellent panoramic view. The high roof allows you to easily get into the car, even for people of large build. The Pleo dashboard is simple and functional enough to not distract the driver from overloading information. The speedometer and tachometer are located directly in front of the eyes, and two more indicators are placed on the rack on the right side. During the production of the Subaru Pleo, several modifications were developed.
In July 1999, Subaru introduced a special external upgrade package for the Pleo model, which was called Nesta. In October of the same year, the sports version of the Subaru Pleo was presented, giving it the name "LS". But on this work on the changes and the creation of new versions were not stopped. Already in May 2000, a new version of the Pleo Nesta called "G Edition" was released, and a year later another sports version with the "RS" label went on sale. In October 2001, the base model Subaru Pleo undergoes the first external changes, which mainly affected the front of the car. In 2002, the model once again received minor external changes.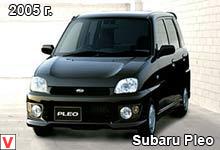 Other autos category Subaru