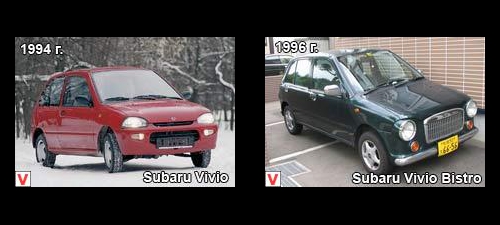 The Subaru Vivio is a compact keicar subcompact car (a class characteristic of Japan - low-power, low-power cars) in a 3-door coupe or 5-door hatchback, which was first introduced by the Japanese car company Subaru in March 1992. The predecessor of this model was a car called Subaru Rex. The wheelbase of Subaru Vivio is 2 310 mm, length - 3 300 mm, width - 1 400 mm, and height is only 1 380 mm. The ground clearance of the small car was 150 mm. A four-cylinder engine with distributed fuel injection of 0.7 liters and 58 hp was installed under the hood of the Subaru Vivio in the front. Also, this power unit had a more powerful turbocharged version.
It is worth noting that one of the lightest small cars of the keicar class, whose mass was only 650 kg, therefore, the engine power was quite enough, and the maximum speed of the Subaru Vivio was 138 km / h. Acceleration to 100 km / h took 16 seconds. As for the transmission, there was installed a 5-speed manual gearbox. The manufacturer offered both front-wheel drive and all-wheel drive versions. The design of the front suspension included wishbones, and the rear was based on racks MacPherson. Four-seater car interior. Rear seats were cramped due to the low location of the cross member of the roof. The front seat is pretty comfortable.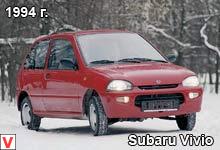 The front seats had lateral support. Note that in the 3-door model of a special reclining of the front seats for landing back was not provided. Two standard adjustments were used for this - the chair was moved forward and the back was bent. After that, you had to adjust the seat again.
As a result, it was also not an easy task to get out without help from the rear. There was also a special version called "Vivio Bistro", made in retro-style. Exterior modifications affected the front and back of the car. As for the interior, there was installed a new stylized dashboard.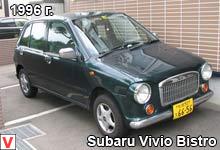 This version of the Subaru Vivio was quite popular in Japan. Note that the export of the Subaru Vivio compact to European markets was very limited.
Other autos category Subaru