In the mid-80s, a gap appeared between the Leone and Rex in the Subaru model range. In order to fill it, in February 1984, the car was developed by Justy. The car body could be 3-door or 5-door, and the drive could be either front or 4WD. Independent suspension design on all 4 wheels. Among competitors (Nissan March and Suzuki Cultus) Justy stood out with its tiny size, it was one of the smallest in its class B.
Since its debut, more than a million of these cars have spread around the world. In some countries, it was sold under the name Subaru Trendy. Two petrol engines were offered as the main driving force: 1.0 l and 1.2 l / 63 hp. The power units were paired with a manual or automatic transmission. The Justy version with manual gearbox has become more popular due to the high reliability and efficiency of the car. Per 100 kilometers the car consumed only about 4 liters of fuel. In February 1987, a modification appeared in which a continuously automatic transmission system like Super automatic E-CVT was used.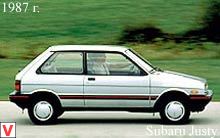 Since the traditional automatic gearbox because of the small power of a small three-cylinder engine worked unevenly and with disruptions. In 1988, conducted a partial update of the model range. The liter engine disappeared from the line of power units. The power of the 1.2 liter engine has increased to 73 hp In the city traffic, Justy was easily recognizable by the elevated roofline.
In February 1991, another small modernization was carried out, during which it was decided to abandon the asbestos brake linings, and all the cars of this model were equipped with a standard power steering and radio in the cabin. In 1994, sales of the car ended in the United States, but in Europe, Suzuki Motors Corporation continued to build Subaru Justy on its conveyor in Hungary. However, it was just an old acquaintance of Suzuki Swift under the new brand and with an installed all-wheel drive system. Subaru Justy was the last carburetor car of the Japanese manufacturer, sold in Europe and the United States.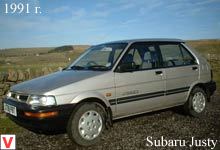 In August 2003, production of the compact G3X Justy (Suzuki Ignis) crossover began at the Hungarian Magyar Suzuki plant in Östzergom. The Subaru model was positioned slightly higher than Ignis, therefore, the standard equipment included a stylish steering wheel with adjustable height and reach and control buttons with audio functions from a CD, air conditioning and cruise control, ABS + EBD, front and side PB, fog lights, electric windows and mirrors, seat height adjustment, information LCD-display. For an extra charge, you can order climate control with a carbon filter, electric sunroof and other accessories.
On the G3X, Justy installs gasoline engines R4 16V with a VVT volume of 1.3 liters (94 hp, 118 Nm) and 1.5 liters (99 hp, 133 Nm). All versions are equipped with a system of automatically connected four-wheel drive and 5-speed manual gearbox. In 2007, Subaru announced the revival of the model Justy. The new generation is based on Daihatsu Boon. The car is manufactured in Japan at a factory in Osaka, owned by Daihatsu Motor Co., Ltd., which significantly saves Subaru's manufacturing costs. Subaru Justy 2007 is a completely new modern and stylish car that is not at all like its predecessors.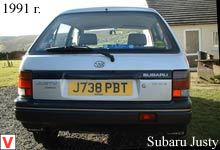 But in it, as well as in the previous members of the family, installed a 1.0 liter three-cylinder engine with 69 horsepower. The maximum speed is 160 km / h, and acceleration to the "hundred" takes 13, 5 seconds. Fuel consumption is only 3.67 l / 100 km. Justy meets the most stringent European environmental standards in terms of fuel economy and CO2 emissions.
Emissions of carbon dioxide into the atmosphere do not exceed 118 grams per kilometer. The choice of the buyer two body options: three-and five-door hatchback. Also, buyers offer front-wheel drive and all-wheel drive transmission. The car is distinguished by a trim silhouette, a streamlined body, high ground clearance and expressive front optics. The interior is quite spacious. Basic equipment offers: ABS, 6 airbags, alloy wheels and air conditioning.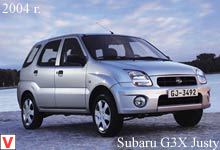 Other images auto Subaru Justy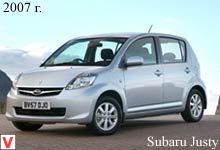 Other autos category Subaru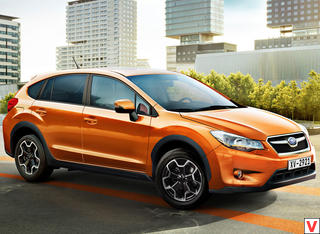 Subaru XV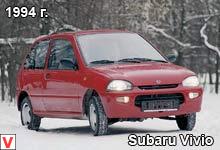 Subaru Vivio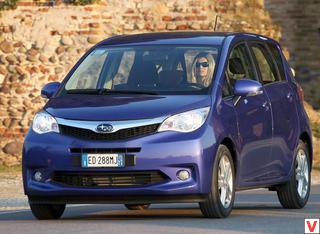 Subaru Trezia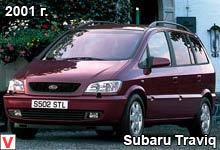 Subaru Traviq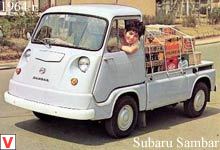 Subaru Sambar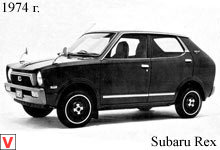 Subaru Rex / Jumbo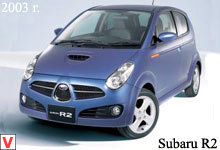 Subaru R2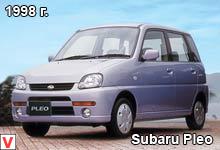 Subaru Pleo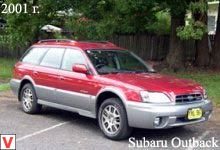 Subaru Outback / Lancaster