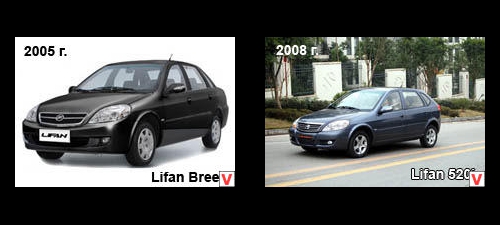 The Lifan Breez model is a four-door, five-seat, B-class sedan produced by the Chinese company Lifan. "Breez" is the export name of the car, in the Chinese market it is called "Lifan 520". The debut of this car in China took place in 2005. Initially, the company Lifan was engaged in the production of motorcycles, scooters and engines for them, and Lifan 520 became the company's firstborn in the automotive market. Lifan knew very well that it did not have the necessary experience and experience in the automotive industry, and therefore turned to the Japanese automaker Mazda for help. In cooperation, the two companies created Lifan 520.
Under the hood of the car can be installed one of three four-cylinder sixteen-valve engines of various engine capacities and capacity. The buyer can choose among engines of 1.320, 1.587 and 1.596 cm ³. Engine power is 89 hp, 106 hp (at 6000 rpm) and 116 hp (at 5600 rpm), respectively. It is worth noting that the last two engines are equipped with a multi-point fuel injection system. Depending on the engine displacement, acceleration from zero to 100 km / h takes at Lifan Breez from 10 to 14 seconds, and the maximum speed from 155 to 170 km / h. Regardless of the type of engine, the car is equipped with a five-speed manual gearbox. Breez dimensions are 4370x1700x1473 mm.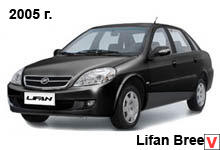 The technical equipment includes a brake force distribution system (EBD) and anti-lock braking system (ABS). The Lifan Breez car appeared on the Russian market in September 2007, and in December 2007, the updated Breez came out with a new harmonious interior design and original rear lights. The updated car began to collect at the factory Derways, located in Cherkessk (Karachay-Cherkessia). The car has become much more comfortable and more comfortable than its predecessor. The model was modified for unhindered operation in Russia, for example, the ground clearance was increased from 155 to 180 mm.
On April 4, 2008, a crash test of the Lifan Breez car was conducted using EuroNCAP methodology. According to experts, "Lifan Breez" passed the test successfully. In 2008, Lifan Breez began to be manufactured with a new body. The premiere took place at the Beijing Auto Show.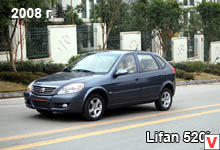 The new car was named Lifan 520i. It is a Class B five-door hatchback. The basic version offers anti-lock braking system, air conditioning, dual airbags, power steering and full power accessories. Two options are offered as a power unit: a sixteen-valve 1.3 liter engine (89 hp) and a 1.6 liter (106 hp) - both meet Euro-3 standards.
Other autos category Lifan