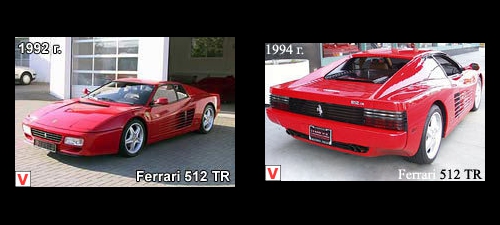 The Ferrari 512 TR model is a 2-seater sports car that was manufactured by the Italian car company Ferrari from 1992 to 1994. The debut of the model 512 TR was held at the Geneva Motor Show in March 1992. In general, it was an improved version of the previously produced model called Ferrari Testarossa. The relationship of these models can be seen already by visual inspection, without going into the technical details of the car, where there is also a lot in common.
For example, the Ferrari 512 TR was equipped with the same 4.9-liter Flat-12 engine as its predecessor Testarossa. However, it is worth noting the fact that the power of this power unit has increased slightly and amounted to 428 hp. at 6 750 rpm (at Ferrari Testarossa - 390 hp at 5 300 r / min). A number of improvements contributed to this increase in power, such as, for example, the appearance of fire tubes from Nikasil, as well as a new air intake system. Of the changes relative to the engine, an increase in the compression ratio, new piston rods and an updated exhaust system are worth noting. Also, the engine was equipped with a Bosch Motronic M2.7 control system.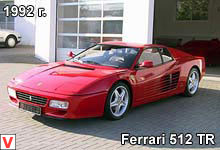 Changes affected the transmission of the car. Sportcar Ferrari 512 TR was equipped with a 5-speed manual gearbox, but unlike the Ferrari Testarossa had an improved gear mechanism. The brake system included large front brake discs with transverse perforation. Thanks to a more sensitive steering, low profile tires and new shock absorber settings, the vehicle's handling has increased significantly. We note another important point that the location of the engine and gearbox was thought out anew, which allowed a little shift of the center of gravity to improve the stability of the car on the turns.
Performance indicators regarding the maximum speed and dynamics of acceleration increased. Ferrari 512 TR to accelerate to 100 km / h was enough for only 4.8 seconds, and the speed limit was the mark of 309 km / h. The interior of the sports car 512 TR has also been updated.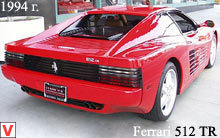 The cabin has a new dashboard and center console. Also changed the location of the climate control panel. As for the exterior, the changes here were not so significant. Model Ferrari 512 TR has received a new front bumper with a modified grille and fog lamps.
The lower part of the body is already painted in body color, and was not black, like the Ferrari Testarossa. The dimensions of the car (length - 4 481 mm, width - 1976 mm) were the same as that of the predecessor with the exception of the height of the car, which increased by 5 mm (1 135 mm). The wheelbase of the 512 TR was 2 550 mm.
In 1995, the Ferrari 512 TR model was modified. The new version was named Ferrari 512 M (Modificata), which existed until 1996. This was the latest model from the Testarossa series.
Other autos category Ferrari