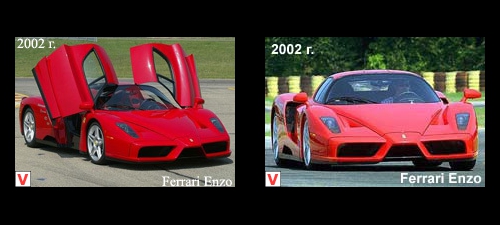 The Ferrari Enzo is a 2-seater sports car that was produced by the Italian car company Ferrari from 2002 to 2005. and named after its founder, Enzo Ferrari. For the first time this model was presented at the Paris Motor Show in 2002. In fact, Ferrari Enzo is a full-fledged Formula 1 racing car that was redesigned for city streets.
This superb sports car is nothing but the result of the work of Ferrari engineers and designers from Pininfarina. Body Enzo Ferrari created from carbon fiber, which made it easy and quite durable. At the first glance it can be seen that it is permeated with wide sockets of air intakes. And this is not just a concept of appearance.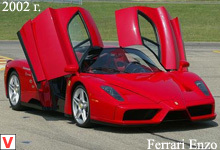 This design allowed for air distribution to increase downforce and efficient engine cooling without significant aerodynamic losses. Also worth noting is the proposed option of opening doors. They rise up at a 45 degree angle. The interior design of the sports car can not be called luxurious - it is truly sporty, but not without comfort, including options such as electric equipment, climate control and high-quality audio system. However, not every person is comfortable to get behind the wheel (note, not his) Enzo Ferrari. The fact is that the seat is made separately for each customer, based on his physique.
As for the design, the bucket seats, inserts in the doors, under the front panel and in the center console are upholstered in green leather, and the panel and steering wheel are made of carbon fiber. The small steering wheel has a flat upper part, on which are LEDs that allow you to control the operation of a 6-speed sequential gearbox with an automatic shift system (the gear changes took only 15 milliseconds). Shifting gears carried the steering wheel petals. The yellow dials of the speedometer and tachometer are marked up to 400 km / h and 10,000 rpm. Behind the driver was a 12-cylinder 60-valve engine with a volume of 6.0 liters. The power of this power unit was 660 hp.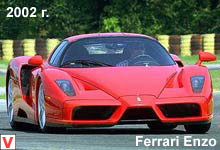 Note that these figures were achieved without the use of any turbochargers. The V12 engine for the Enzo model is the first of a new generation of Ferrari engines. Its architecture was based on the V8 engine, which was used by Maserati (a subsidiary of Ferrari). Ferrari Enzo also installed 19-inch wheels wrapped in Bridgestone low-profile tires, and 15-inch carbon-ceramic brake discs from Brembo, which quickly stopped a high-speed car. The maximum speed of the car was 300 km / h, and the sports car accelerated to 100 km / h in 3.3 seconds.
The last car Ferrari Enzo was assembled in June 2005.
Other autos category Ferrari