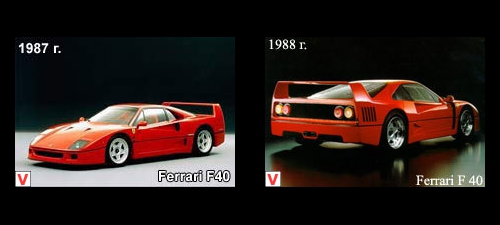 The Ferrari F40 is a 2-seater rear wheel drive sports car with a medium engine, which was produced by the Italian car company Ferrari from 1987 to 1992. He replaced the Ferrari 288 GTO. At that time, the Ferrari F40 was the fastest, most powerful and most expensive of all Ferrari. Its name was confined to the 40th anniversary of the company. Model F40 was produced only in the body Berlinetta (2-door coupe).
In his 90 years, Enzo Ferrari understood that his life was coming to an end, and was a little disappointed with the current position of the company in motor sport. As a result, he decided to create a new project that would help the company to remind about itself and compete with its main competitor - Porsche 959. The 40th anniversary of the company had, just the right time, for the debut of the new F40 sports car. And it was the last car released under the guidance of Enzo.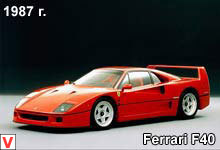 The car was built at a factory in Maranello, Italy. As for the body, its design was based on the use of a tubular frame, which was reinforced with special Kevlar panels (synthetic fiber to replace steel). The outer cladding was also made of carbon fiber. Also, some structural elements were made of aluminum. All this made it possible to achieve a fairly small mass of the car (1,100 kg), while the remaining sports cars weighed more than one and a half tons. The body design involved the Italian company Pininfarina.
Under the hood, or rather under the glass of the car, there was a 2.9-liter V8 engine with two turbochargers, which were designed by the Japanese company IHI (Ishikawajima-Harima Heavy Industries Co.). The power of such a power unit was 471 hp at 7000 rpm The Ferrari F40 accelerated to 100 km / h in 3.2 seconds, to 160 km / h in 7.6 seconds, and to 200 km / h in 11 seconds, which gave it some advantage over its main competitor, the Porsche 959. The maximum speed of the F40 sports car was 324 km / h, which made it the fastest car in the period from 1987 to 1989. Installed on the car 5-speed manual gearbox. The suspension of the car was quite tough, and with every irregularity it felt good.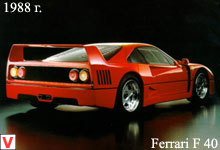 Also worth noting is the lack of any power steering on the car. To stop the sports car also required to quite push the brake pedal. All this made the trip to the F40 a kind of endurance training. Yes, and to cope with such power, it was necessary to possess sufficient skill. But surprisingly, this did not alienate buyers, and demand eventually surpassed all expectations. For all the production time, 1,315 cars were produced. Their price at that time was about $ 400,000.
Other autos category Ferrari