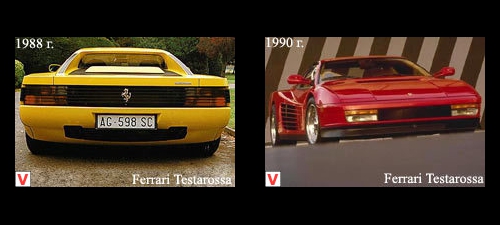 The Ferrari Testarossa is a 2-seater sports car, which was first introduced by the Italian car company Ferrari in October 1984 at the Paris Motor Show. This model has replaced the previously released car Ferrari Berlinetta Boxer. The design of the sports car engaged Italian bodybuilding studio Pininfarina.
The name "Testarossa", which in Italian means "red head", was assigned because of the red-colored cylinder heads of the engine. The main competitor of the Testarossa model at that time was the Lamborghini Countach. The cab and body doors were made of steel, the front and rear bumpers were in turn made of plastic, and all other structural elements were made of aluminum.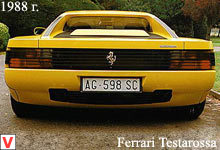 The wheelbase of the car was 2 550 mm, which was 50 mm longer than its predecessor. The length of the sports car was 4,486 mm, width - 1,976 mm, and height - 1,130 mm. It is worth noting that the radiators of the cooling system were located on the sides of the car, as a result of which the air intake panels appeared on the doors of the car, and the waist and the back of the sports car became quite wide. Model Ferrari Testarossa was equipped with a 12-cylinder flat-12 engine with a volume of 4.9 liters, whose power was 390 hp at 5300 rpm For each cylinder of the engine accounted for four valves (total 48 valves).
The power unit was equipped with a Bosch K Jetronic fuel injector, as well as a Magnetti Marelli Microplex ignition system. The engine was located in front of the rear axle. The torque of the power unit was transmitted to a 5-speed manual gearbox, which was mounted at the rear axle. This combination allowed the sports car to accelerate to 100 km / h in just 5.6 seconds, and the maximum speed of the car was 274 km / h. The interior of the Ferrari Testarossa car corresponded to its class and was more luxurious than its predecessor Ferrari BB. High-quality leather trim harmoniously fit into the overall sports concept.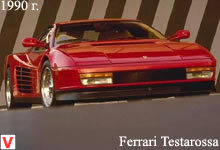 Also, the sports car received new seats, leather-trimmed steering wheel Momo, as well as a new dashboard and center console. In 1991, the Ferrari Testarossa model was redesigned, and the new version of the sports car was given a new name, the Ferrari 512 TR.
Other autos category Ferrari