Sedan middle class Mazda Cronos debuted in the domestic market in Japan in October 1991. This car was one of the modifications of the Mazda Capella and equipped with both front-wheel drive and all-wheel drive. In the US, it was sold under the name Mazda 626.
Production continued until 1997, when the next generation of Capella appeared on the GF platform. The car is based on the GE platform and has dimensions of 4695/1770/1400 mm with a base of 2610 mm and a gauge of 1500/1500 mm. Curb weight ranges from 1170 to 1260 kg, depending on the engine and transmission type. The body is 4-door 5-seater, its internal dimensions are 1900/1450/1160 mm.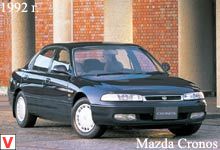 The back of the rear seat is divided in proportion of 2/3 and folds, if necessary, to increase the capacity of the luggage compartment. The basic equipment of the model includes power steering, fog lights, climate control, central locking, electric windows, a radio tape recorder and a steering column with adjustable height. Additionally installed rear spoiler and alloy wheels. On the Cronos were installed 6-cylinder 24-valve gasoline engines with electronic injection system EGI of 1.8 liters and 2 liters, 4-cylinder 16-valve 2 liters, as well as a diesel 2-liter engine.
The KF-ZE engine with a volume of 1.995 liters (160 hp / 6500 rpm, 179 Nm / 5500 rpm) provides acceleration of up to 205 km / h and consumes 11.1 liters of AI-95 gasoline in the urban cycle and 7 liters in the extra-urban. The 1,845-liter K8-ZE (140 hp / 7000 rpm, 157 Nm / 5500 rpm) consumption is 10.4 liters in the city and 6.6 liters on the highway. The all-wheel drive version was completed with a 4-cylinder engine FS-DE 1,991 l (125 hp / 5500 rpm, 173 Nm / 4500 rpm). A car with this engine picks up a maximum speed of 192 km / h with an average consumption of gasoline of 8.3 liters (6.7 liters on the highway). The diesel engine of RF with a volume of 1.998 liters produces 82 hp.
at 4000 rpm and a solid torque of 181 Nm at 2000 rpm. Cronos with this engine can accelerate to 161 km / h. This motor is equipped with a forced intake system PWS, which allows the motor to operate without delay and smoothly respond to the accelerator pedal. Independent front suspension type McPherson, rear double wishbone, the axis of the upper and lower arms do not coincide with each other, which allows to provide the desired angle of convergence of the wheels. Clearance is 160 mm.
In May 1992, sales of the Cronos Grand Tourismo began. This model was equipped with a KL-ZE engine, which had a volume of 2.496 liters and developed power up to 200 horsepower. The design of the front suspension of this car used shock absorbers with built-in springs, as well as anti-roll bars of increased section. This contributed to a significant improvement in machine handling. Brakes at Mazda Cronos front ventilated disc, rear disc. The standard tire size is 195/65 R14 89H.
Passive safety system includes 2 basic PB, 3-point seat belts for rear passengers, energy-absorbing beams in the doors for protection against side impact.
Other autos category Mazda