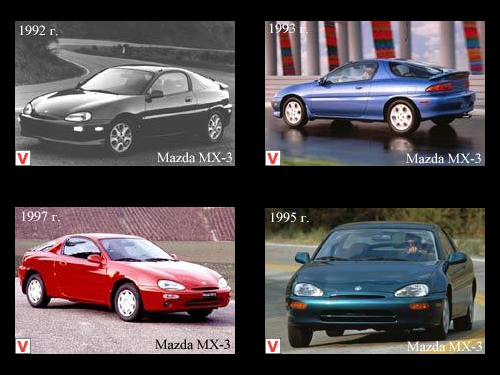 Mazda MX-3 - a compact, styled two-door coupe with front-wheel drive. The car is obedient to drive, has excellent maneuverability and attractive appearance. The undulating profile, the sharp rear spoiler and the slightly licked predatory front end look elegant and modern.
The car has a dynamic appearance, has a good anti-corrosion resistance of the body. The MX-3 debuted in 1991 in Geneva. Until 1994, the interior of the car was exactly the same as that of the Mazda 323. A driver of any size can fit in the driver's seat with absolute comfort, but behind even two of them closely. The power units installed on the MX-3 give the car a decent dynamics and are notable for reliability.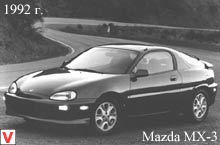 The range of engines consists of a 4-cylinder 1.6-liter working capacity of 107 hp. with automatic transmission and V-shaped, 24-valve, 6-cylinder engine working volume of 1.9 liters capacity 129 hp, which provides good speed. Thanks to him, this car received the title of "Pocket Rocket".
A moderately stiff but comfortable enough suspension, as well as "two hundred and fifth" tires perfectly hold the car at the highest speeds on any surfaces. The chassis is highly sensitive and provides a comfortable ride. In January 1999, the production of the Mazda MX-3 was suspended. The model name in the Japanese market is Eunos Presso.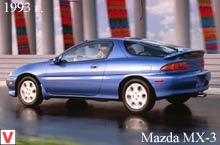 Other images auto Mazda MX-3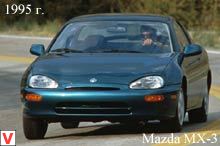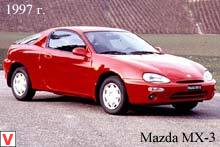 Other autos category Mazda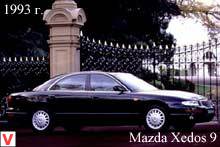 Mazda Xedos 9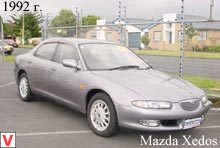 Mazda Xedos 6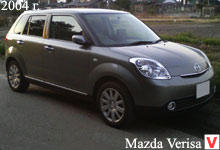 Mazda Verisa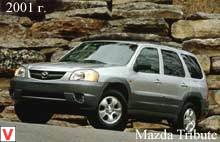 Mazda Tribute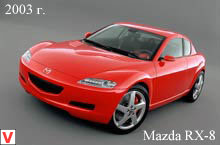 Mazda RX-8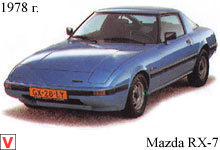 Mazda RX-7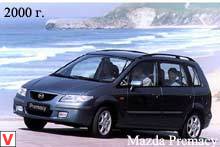 Mazda Premacy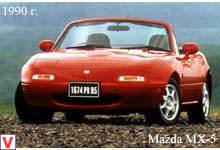 Mazda MX-5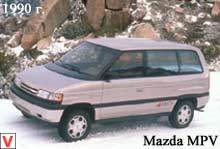 Mazda MPV