Mazda Verisa debuted on the Japanese market in the summer of 2004. A conceptual prototype of this model was shown at the Detroit auto show in early 2004 under the name Mazda MX-Micro Sport. The name Mazda Verisa comes from two words: the Italian "verita", which means "truth, truth", and the English word "satisfaction", meaning "satisfaction." The model is positioned as a car for young people who pay more attention to the image and style. Verisa is a 5-seater compact car type "high wagon." The model is based on the second-generation Demio platform. The machine is characterized by optimal size, high quality exterior and interior decoration, as well as noiselessness.
Special attention deserves skillfully selected exterior design and interior of the cabin. The exterior is not devoid of gloss and some chic. The car is offered with only one petrol four-cylinder power unit ZY-VE of 1.5 liters capacity of 113 hp, which provides good dynamics and moderate fuel consumption. The transmission also offers no choice - only a 4-speed automatic transmission. If desired, you can choose the type of drive (front or full).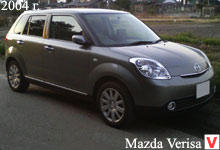 The 4WD all-wheel drive system is designed so that the rear wheels are driven by an additional electric motor (such a system is called an "e-4WD"). The manufacturer offers three equipment options. Already in the basic configuration, the owner receives comfortable chairs with leather inserts, a front panel with "walnut" inserts, and instead of a key - a card with control buttons for the central lock. There is a climate system with automatic mode, a rear-view video camera with a retractable screen on the center console and a modern audio system with a CD, a hard disk of 20 gigabytes and a card reader for downloading music files.
Completes the picture of low-profile 15-inch tires on cast wheels and chrome body decor. In addition, a wide choice of various options and versatility. Verisa is a typical example of an elegant, cozy city car. Ergonomics at the highest level. Armchairs are easily customized.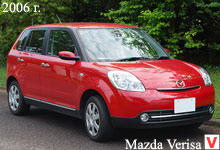 Rotary ignition lock - a gift for lazy people, so that once again do not get the key out of his pocket. Particularly impressive is the trunk - with double floor and easy access through the cabin and the fifth door. True, there is one "but", the back seat folds only backs. Mazda has also released about 800 copies of the Verisa model in the L-Style modification. The exterior of the car was complemented by factory tuning, Verisa received reflective moldings, a silencer and fog lamps. In addition to the three variants of the body color solution, one more appeared - velocity red mica.
The interior is decorated in leather and is made in dark brown and black tones. The dashboard and armrest for the driver's seat got a wood finish. An immobilizer, a water-repellent glass layer, an automatic headlight dimmer switch and automatic wipers have been added to the list of standard equipment. The front-wheel drive version received 16-inch light-alloy wheels and 195 / 45R tires. Thanks to its stylish design and high quality, Verisa has earned in Japan a reputation as a compact car for particularly demanding customers.
The car received high marks from experts and consumers for the design and price / quality ratio. In 2006, Verisa suffered a facelift. The model received a new interior, exterior colors and additional accessories. It has a wider range of materials for the interior, high-quality stylish plastic dashboard, and a lot of chrome parts. Externally, Verisa has changed thanks to the new cast wheels.
In 2007, Mazda introduced a special series called the Stylish V. This version comes with a molding for the front and rear bumper, a new grille, door sills, new fog lights and an exclusive exhaust pipe. The car's interior is trimmed with red and black leather, and the seats - with red and black cloth. The special edition is equipped with a 1.5-liter DOHC engine, aggregated with a four-speed automatic transmission. Stylish V has got 15-inch wheels and is available in four body colors: Metropolitan Gray Mica, Velocity Red Mica, Radiant Ebony Mica and Moist Silver Metallic.
Other autos category Mazda