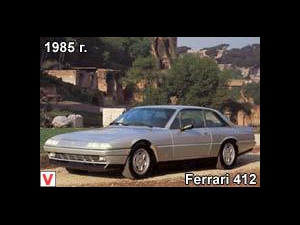 The Ferrari 412 is a two-door, four-seater sports car with a 2 + 2 seating formula, which was first introduced by the Italian car company Ferrari in 1985 at the Paris Motor Show. Sportcar Ferrari 412 replaced the previously produced model called Ferrari 400i. Under the hood of a Ferrari 412 was a V12 engine with a volume of 5.0 liters, whose power was 340 hp. at 6000 rpm. The power unit was equipped with a Bosch K-Jetronic mechanical fuel injection system.
The use of such a system reduced engine power compared to power units that were equipped with Weber carburetors, but in turn significantly reduced exhaust emissions. The maximum speed of the car was 251 km / h, and acceleration to 97 km / h took about seven seconds. As for the transmission, there were two options for the car: 5-speed manual gearbox with synchronizers and 3-speed automatic transmission GM "Turbo-Hydramatic" from the American automotive company General Motors. Depending on the installed gearbox cars assigned the following names.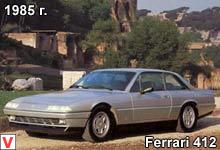 Versions with manual transmission were named Ferrari 412 GT, and cars with automatic transmission Ferrari 412 (sometimes in the name you could find the letter "A", which meant Automatic). The appearance of the car Ferrari 412 has undergone some external changes in comparison with the 400th model preceding it. Note that the design of the sports car worked Italian design studio Pininfarina.
The revised front part of the coupe has become somewhat simpler; two small additional headlights are located on the bumper at the edges of the air intake. The bumper itself was painted in body color. On the back of the car, the panel, which was executed in matte black, was now also painted in body color. The car's interior has also been updated. Inside, new electric seats appeared, and the door panels were redesigned. In 1989, the production of the Ferrari 412 model was discontinued, giving way to a sports coupe with a landing formula of 2 + 2, but with an average engine location called the Ferrari Mondial.
Other autos category Ferrari