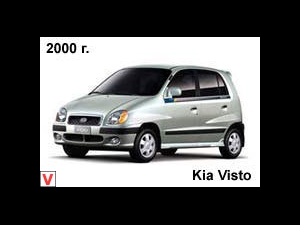 The Kia Visto is a compact city car in a 5-door hatchback, which was introduced by the South Korean car company Kia in 1998. It was designed on the basis of a car from the company Hyundai called Atos / Santro. Model Visto had a pretty good looks, and oval headlights gave the exterior a cheerful mood. Note that clones of this model were presented in various markets under various brands and names. For example, in the UK it was sold as Hyundai Amica, and in Mexico the car was introduced by Dodge and was called Atos. The Kia Visto car (which he used to wear this name in Indonesia and South Korea) is rather small.
Its wheelbase is 2380 mm, the length of the car - 3495 mm, width - 1495 mm, and height - 1580 mm. Despite its small size, the model turned out to be quite spacious and comfortable, in which four people can easily sit. Extra space provides a high ceiling. The trunk volume is very large for this class of car and is 320 liters. Under the hood of the Kia Visto subcompact, there is a small 9-valve three-cylinder engine with a distributed fuel injection volume of 0.8 liters, which is located transversely. The power of such a power unit is 54 hp. at 6000 rpm (torque 72 Nm at 4000 rpm).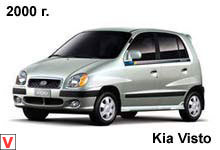 Also, as an option, the manufacturer offers the equipment of a "small car" with a turbo version of a three-cylinder engine with a power of 70 hp. at the same rpm, as well as increased torque is 103 Nm at the same 4000 rpm. As for the transmission, for the car is offered a 5-speed manual gearbox. The maximum speed when equipped with a standard engine is 145 km / h, and with a turbocharged power unit - 150 km / h. The front suspension of the Kia Visto is a McPherson type car and includes shock absorber struts, while the rear suspension is based on coil springs.
Both are equipped with anti-roll bars. The brake system in turn consists of front disc and rear drum brakes. The steering column is equipped with power steering. Production of the Kia Visto lasted until 2004, when it was replaced by a new class A car called the Kia Picanto.
Other autos category Kia