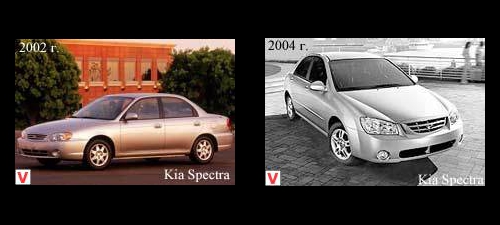 In 2002, the Spectra came to replace Kia Sephia - a car built on its own base. Front-wheel drive five-door passenger car with a sedan type body. But at the same time, Spectra is completely different from Sephia. It is taller (6 cm), wider (2.5), longer (5.5). The wheelbase has increased by 50 mm and is now 2610 mm. Compared with the Sephia bodywork, the car rose 10 mm above the road. The ground clearance of the Spectra is 160 mm. Kia Spectra is a sporty-looking car with a slightly elongated nose and four headlights in front.
Especially spectacular look taillights a la Jaguar with round sectors "dimensions" and brake lights. Soft, unobtrusive lines hide a very spacious interior, the volume of which is 2.75 m³. The cabin can comfortably accommodate four people. The interior is rather austere. No frills inside: gray plastic, velor and decorative inserts under a walnut tree. However, the layout of controls is well thought out and convenient. Spectra comes in two trim levels: the GS is the simplest and the GSX is fairly well equipped. The basic package (GS) includes a radio, tinted glass, fog, electric mirrors, fabric upholstery, body-colored bumpers and mirrors.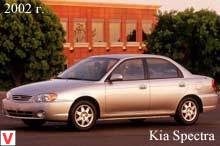 In 2005, Kia Spectra began to produce in three trim levels. The "first" (basic) equipment implies the presence of a manual 5-speed transmission, driver and passenger airbags with a tension device on the driver's side, tilting adjustable steering column, power steering, power windows and central locking. The "second" package has been supplemented with a heated exterior mirror, front fog lamps, manual air conditioning and a full wheel cap. "Third" equipment will be different from the basic automatic transmission and the presence of air conditioning.
And in 2006, the production will also begin with the luxury Kia Spectra - with an automatic transmission, air conditioning, ABS, a telescopic antenna, heated seats and a number of options. Gamma engines for Kia Spectra vary depending on the market. In America, this is the 2-liter 138-strong "four" Hyundai, in Europe - the engines of this brand in 1.6 and 1.8 l / 125 hp The front-wheel drive Kia Spectra Izhevsk assembly will be equipped with a DOHC 4-cylinder 1.6-liter gasoline engine with a capacity of 100 liters. from.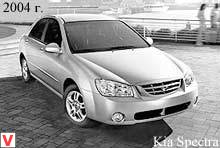 Together with a 5-speed manual gearbox, it will accelerate the car from zero to "hundreds" in 11.6 seconds. The maximum speed of the Kia Spectra will be 186 km / h. Fuel consumption in the combined cycle will not exceed 11.6 liters per 100 kilometers. The design of the front suspension - independent, on racks McPherson. Brakes on the Spectra disc front and drum rear, for an additional fee, you can install ABS. A few words about security. Six pillows and inflatable curtains over the front and rear windows, belts with pretensioners and load limiters - such generous basic equipment is not only in Spectra classmates, but in many vehicles of higher rank.
Kia Spectra perfectly combines style and comfort, gives peace of mind and confidence behind the wheel.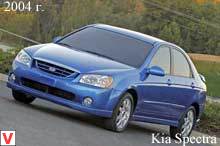 Other autos category Kia