The GMC Savana is a full-size minibus that was first introduced by the American automotive company General Motors in 1965. He was also known as "Rally". This car is a typical representative of American vans. The start of its production coincided with an extraordinary increase in the popularity of these minibuses. The model was very successful and over the next thirty years (up to 1996) did not undergo major changes. This was facilitated by the fact that the Savana model did not have much competition.
Small changes were limited mainly to minor changes in the interior and exterior of the car (the emergence of cup holders in the doors or new door handles). The car was pretty impressive size. Massive front end, large headlights, low bumpers - all this emphasized the American style. The minibus was presented in two versions: a half-ton (GMC Savana 1500) and a one-ton carrying capacity (GMC Savana 3500).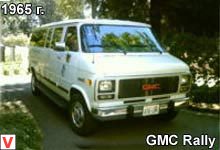 Salon, depending on the configuration contained in itself from 8 to 15 people. Under the hood of the Savana 1500 version, there was a 5.3 liter V8 engine, whose power was 295 hp, and the Savana 3500 version was equipped with a 6.0 liter power unit with 300 hp. Both engines were paired with 4- speed automatic transmission. Most Savana minibuses had rear-wheel drive, however, for the Savana 1500 version, it was also offered in an all-wheel drive version. From the technical equipment of the car is worth noting power steering and stability control system, which came as standard.
The first significant update was the GMC Savana minibus in 1996, when it actually changed its name from GMC Rally to GMC Savana. The car received an updated front part, and a new V6 engine with a volume of 4.3 liters and a power of 195 hp was proposed for it. At the same time, a similar model called Chevrolet Express was released under the Chevrolet brand. But the most important update was still to come. In 2003, the GMC Savana car underwent another major changes, both visual and technical. A new version, the 2500, also appeared, which had a payload capacity of ¾ ton. Having received new body panels, the car began to be based on the new GMT800 platform.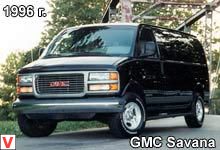 In 2004, the GMC Savana passenger models began to be equipped with the StabiliTrak electronic motion stabilization system. In 2007, as standard, all GMC Savana minibuses began to be equipped with a 5.3-liter V8 engine, whose capacity is 295 hp. The list of engines offered today also includes: 195-strong V6 with a 4.3-liter volume, 285-strong V8 with a volume 4.8 liters, a 300-horsepower V8 with a volume of 6.0 liters, and a 250-horsepower diesel engine V8 with a volume of 6.6 liters.
As for the interior of the car Savana, it is very comfortable and luxurious. Leather trimmed interior is made in bright colors. Armchairs are very comfortable and equipped with heating.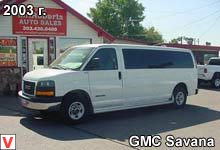 Other images auto GMC Savana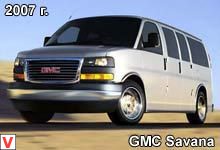 Other autos category GMC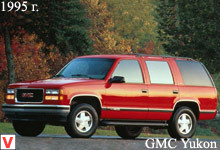 GMC Yukon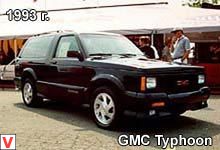 GMC Typhoon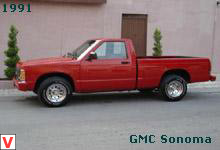 GMC Sonoma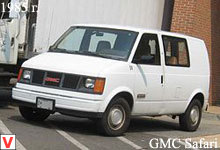 GMC Safari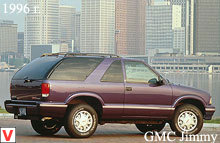 GMC Jimmy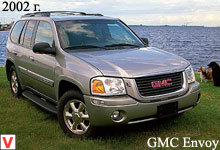 GMC Envoy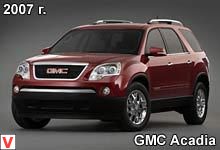 GMC Acadia