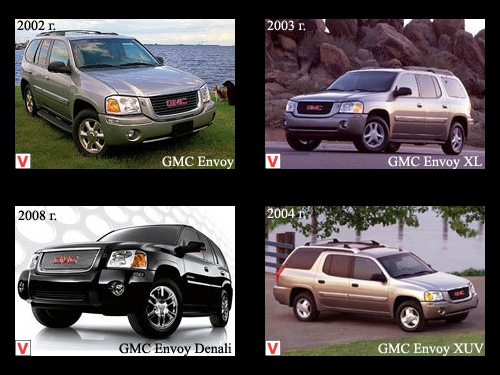 In 2000, GMC, a member of the General Motors automotive empire, announced that it was phasing out the Jimmy model and replacing it with the Envoy model. In the fall of 2001, a debut took place. There are practically no differences between these two models. However, if the exterior design of cars has not undergone special changes, the GMC Envoy is still different in size from its fellow. It has become longer by 16.5 cm, wider by 10 cm and higher by 14 cm. By the way, this mid-size SUV is designed on a common platform with the Chevrolet TrailBlazer. The car had a powerful frame chassis and front independent spring suspension.
The Envoy family included 8 basic models, differing in bodies, power units and transmissions. The base Envoy with a 5-seater body and a wheelbase of 2,869 mm was equipped with a 4.2-liter inline 6-cylinder engine with a capacity of 279 liters. from. The car was offered both with rear driving wheels, and in all-wheel drive. The extended version of the Envoy XL (length 5271 mm, base 3 275 mm) differed by a 7-seater body and two power units, a 5.3-liter V8 engine of 294 hp was added to the standard "six".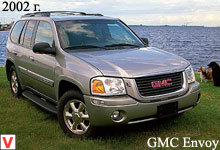 In 2003, the XUV equipment appeared, representing the XL version with the rear part of the body, which was equipped with a sliding roof in the cargo compartment area, which made it possible to transport large-size cargo. In 2005, the production of cars in the XUV configuration was discontinued. In 2006, the Envoy began to install more powerful engines, the model has received improved standard equipment. All versions are equipped with a system of dynamic stabilization and information system security On Star. The basic modifications of the Envoy and Envoy XL were equipped with the familiar inline six-cylinder 24-valve engine of 4.2 liters, whose power in 2006 was increased from 279 to 295 hp.
Luxury performance Denali received a 5.3-liter 304-horsepower V8 engine, equipped with a system to disable the four cylinders of the DOD engine. With uniform movement, this system allows to reduce fuel consumption. All motors work only with hydromechanical four-stage automatic transmissions. The Envoy is spacious enough for five adult passengers. In the finish of the console and the dashboard there is a nickel and wood finish. The quality of materials is good, especially compared to the quality of models from previous years. The advantage is the flexibility of the cargo space: the rear seat folds down to 6/4, increasing the amount of luggage to 2.27 m³.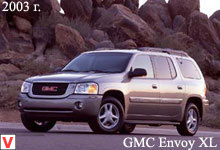 All disc brakes and stability control are standard features for Envoy models. Side airbags are optional. At the request of the owner, the car can be in a version with rear drive wheels or in a four-wheel drive version with an Autotrac transmission and a two-stage transfer case.
There are two basic configuration levels - SLE (upholstered chairs, ABS, frontal PB, HomeLink and OnStar systems, fog lights, mechanical air conditioning, heated seats, electric mirrors, audio system with CD and 17-inch wheels) and SLT (the same elements plus automatic climate control, front seats with electric drive and memory, leather seat trim, electric windows and mirrors, built-in steering wheel radio and climate control). On order for both versions, install a DVD navigation system and XM Satellite satellite radio.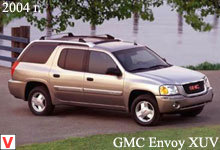 Denali design features an exterior design, a higher class of equipment and trim, electronically controlled rear-wheel air suspension, electrically-controlled front seats with heating system, an adjustable pedal assembly, a Bose stereo system, and 18-inch alloy wheels; DVDs for rear passengers, DVD navigation system, satellite radio. Among the materials upholstery - genuine leather. Improved noise and vibration insulation of the cabin. Since 2007, the OnStar VII generation warning system, a tire pressure sensor and three new exterior colors have been offered for all versions. Initially, the Envoy family was assembled at American factories in Moraine (Ohio) and Oklahoma City.
In the winter of 2006, GM closed the plant in Oklahoma.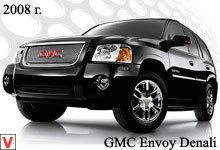 Other images auto GMC Envoy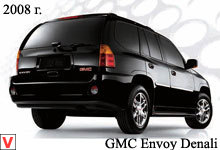 Other autos category GMC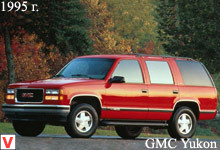 GMC Yukon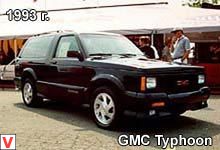 GMC Typhoon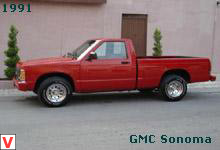 GMC Sonoma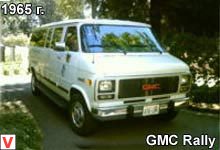 GMC Savana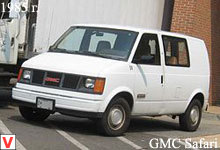 GMC Safari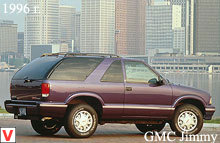 GMC Jimmy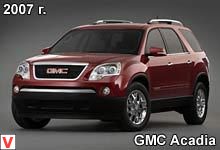 GMC Acadia