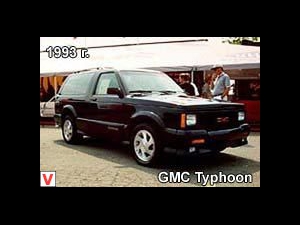 The GMC Typhoon is a two-door SUV (Sports Utility Vehicle) class car, which was manufactured by the American automobile company General Motors from 1992 to 1993. In fact, it was a top version of a model called GMC Jimmy. The predecessor of the "SUV" GMC Typhoon was a car called GMC Syclone, which was introduced in 1991. Due to the fact that the Jimmy model was the basis for the Typhoon, these cars had a lot in common, including the exterior design. They did not have the original appearance, or rather the exterior of the "SUV" was quite modest - typical of its class. Rectangular headlights on the sides of a wide grille, angular shape of the body - all this was typical for "Americans".
The car was medium in size. Its wheelbase was 2553 mm, length - 4326 mm, width - 1732 mm, and height - 1524 mm. As for the engine, the GMC Typhoon, like the Syclone model, housed a 4.3 liter LB4 V6 power unit, which was equipped with a Mitsubishi TD06-17C / 8cm2 turbocharger and an intercooler from Garret. Its capacity was 280 hp. Piston rods, cylinder head gaskets and many other parts of this engine were borrowed from the power unit V8 GM Small-Block with a volume of 5.7 liters.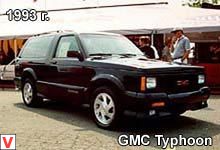 The motor was paired with a 4-speed GM 700R4 automatic transmission (4L60) and a BorgWarner 1372/4472 transfer case, thanks to which 35% of the torque was on the front wheels and the remaining 65% on the rear wheels. Such technical equipment allowed the car to reach a speed of 100 km / h in just 5.5 seconds. It is worth noting that all GMC Typhoon cars were all-wheel drive and had an improved brake system and sports suspension settings. Kelsey-Hayes brakes with ABS, ventilated discs at the front and drums at the rear were perfect for quickly stopping a car weighing 1734 kg. The interior of the car was quite pleasant-looking and quite comfortable.
A spacious leather interior (free landing for 4 adults) was equipped with a set of standard options, such as an adjustable steering column, power steering, CD-radio, heated mirrors, adjustable driver's seat with electric drive, power windows.
Other autos category GMC