The first generation GMC Yukon debuted in 1991. In the role of the main driving force were two gasoline engines: 5.7 i V8 / 258 hp and 7.4 i V8 / 294 hp This model has become one of the most popular in the production program of the concern GM and in general in the North American market. In 1999, the second generation GMC Yukon was introduced, which had every chance to repeat the success of its predecessor. So huge SUVs are now enjoying unprecedented popularity not only among farmers from Texas, but also among presidents of large companies and Arab oil magnates. The full-size (full-size SUV) Yukon II SUV is unified in design with the Chevrolet Tahoe / Suburban (GMT840 platform).
The design is a conservative powerful spar frame at the base, a durable steel body, independent front suspension on torsions with a powerful anti-roll bar, a rigid rear axle with five differently directed levers. The SUV is offered not only with all-wheel drive, but also with rear driving wheels - this chassis is lighter and cheaper. The manufacturer offers two options for the Yukon body with a wheelbase of 2946 mm and an elongated Yukon XL with a base of 3302 mm, which have a capacity of 5-9 and 7-9 people, respectively. In the 2003 model year, Yukon has undergone some changes.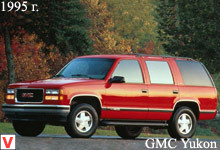 The exterior was decorated with large segmented headlamps in combination with a plastic grille, and the top version of the Yukon Denali received a chrome-plated fine grille and bumpers of a different shape. Salon meets huge instrument panels and massive seats upholstered in genuine leather (execution Yukon SLT). On expensive versions, multi-position chairs are installed (up to 10 adjustments), and the second row seat can be ordered with separate seats.
Custom triple third row of seats can be folded in the ratio of 50:50. All versions have adjustable accelerator and brake pedals, whose settings, along with the settings of the driver's seat, mirrors and steering column, are remembered by a computer (two options). Basic equipment includes full power.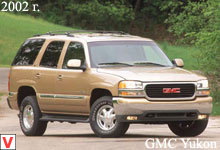 There is a climate control unit with separate microclimate control for the driver and passengers (with a temperature difference of 15 ° C), a Bose audio system with a CD changer, a six-band equalizer and 8 speakers, a DVD gaming center, a digital radio that allows you to receive additional information, as well as advanced satellite service and emergency system OnStar. Second-row passengers can listen to the radio regardless of the front row. An automatic system appeared, which turned off the outdoor lighting in 10 minutes if the owner forgot to do it himself.
From the security systems, besides the child seat, there appeared "intelligent" frontal airbags, determining the extent of its expansion depending on the size of the passenger sitting in front (if it is small - they do not work), as well as the collision forces - they do not reveal when they collide at low speed . The design of the supporting frame contains deformation zones, which allows it to absorb energy much more efficiently in a collision, while the body-frame system has become 64% tougher. Since 2003, the StabiliTrak stability maintenance system (combining ABS, traction control, etc.) has entered the staffing system.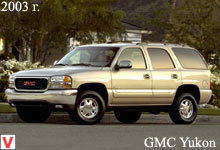 It allows you to safely perform on the road the most abrupt maneuvers. The system of all-wheel drive AutoTrac type on demand ("on demand") allows you to change the power flow from 0 to 100% for each axle when it wheels slip. In this case, the lack of center differential does not allow driving on ordinary roads in full drive mode. Electronically controlled pneumatic system Autoride automatically maintains the level of the body above the road, which is especially important when towing a trailer. For Yukon there are two basic engines of the V8 Vortec family: 4.8 l / 285 l.c. 400 Nm and 5.3 l / 295 hp 447 Nm.
For the most expensive version of the Yukon Denah, an optional 6.0 liter engine is offered, developing 325 l.c. 495 Nm. Power units are paired with a 4-step "automatic". For the 2006 model year, four basic models are offered with rear-wheel drive or optionally permanent all-wheel drive: the Yukon, the luxury version of the Yukon Denali and the extended Yukon XL (similar to Suburban) in the 1500 (1/2 Ton) and 2500 (3/4 Ton) versions.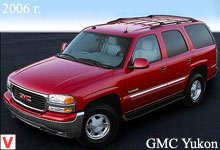 Complete set - basic SLE (ABS, StabiliTrac system, front and optional side PB, climate control, cruise control, electric windows and mirrors) and SLT (optional electric heated front seats, leather trim, Bose audio system with CD changer and satellite radio, navigation system with touchscreen display). The range of engines was supplemented by a power unit with a volume of 8.1 liters V8 16V with a power of 320 hp, which is offered as an option for the heavy Yukon XL 2500 series.
Other images auto GMC Yukon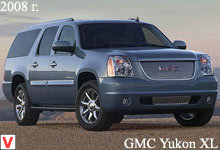 Other autos category GMC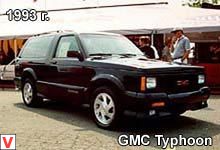 GMC Typhoon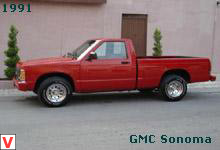 GMC Sonoma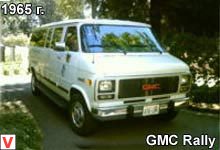 GMC Savana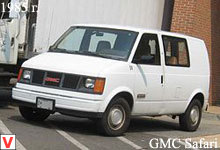 GMC Safari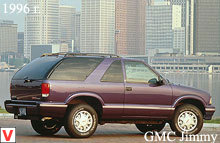 GMC Jimmy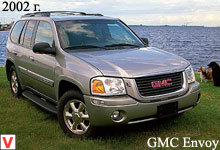 GMC Envoy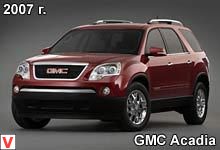 GMC Acadia