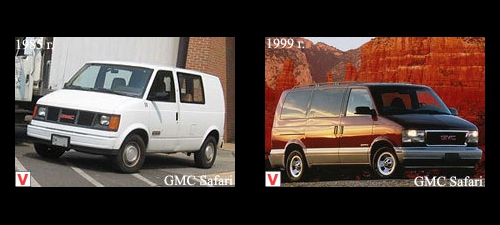 The GMC Safari is a minibus first introduced under the GMC brand (a division of General Motors) in 1985. The car also had a twin from the Chevrolet company called the Chevrolet Astro. The name Safari was also a model from the company Pontiac. It is worth noting that the Safari models of the Pontiac and GMC companies were sometimes even sold over the same dealer networks. The GMC Safari model was based on the same M-van load platform as the Chevrolet Astro. The car had cargo and passenger versions.
The passenger van could hold up to eight people. And rear-wheel drive versions could carry cargo weighing up to 2,500 kg (all-wheel drive up to 2,270 kg), which was in competition with front-wheel drive models, whose carrying capacity was significantly less. Note that initially the vans were exclusively rear-wheel drive, and only since 1990 the four-wheel drive was offered by the manufacturer as an option. The all-wheel drive system was developed by the British company FF Developments. However, four-wheel drive had several drawbacks, such as high fuel consumption and reliability problems of the front suspension.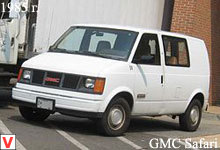 For the first generation of Safari (until 1995), the 4.3 liter V6 engine capacity ranged from 145 hp. up to 190 hp, depending on the model year and configuration options. A 4-cylinder 2.5-liter power unit was also proposed, which was used on this model until 1990. In the second generation, the power of the 4.3-liter V6 engine was 190 hp. The minibuses were equipped with a front suspension with a lower frame fixed to the bots, which was borrowed from station wagons based on the B-platform, such as the Chevrolet Caprice, Cadillac Brougham. Rear suspension vans included leaf springs. Changes in the interior were first made in 1990. The car received an updated dashboard.
In 1995, GMC Safari undergoes some external changes, which mainly affected the front of the car (headlights, grille, etc.). In 1996, the Safari model is equipped with a passenger airbag. In 2003, General Motors will improve the chassis design for GMC Safari. The car also gets larger brake calipers and special 6-bolt 16-inch rims, which were used on full-size Chevrolet cars and GMC pickups. By 2005, sales of GMC Safari and the wagon line as a whole began to decline. In connection with the advent of new federal standards, General Motors did not see the point of investing in the redesign of models whose sales are not large.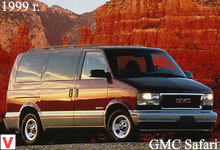 Other autos category GMC