The debut of the model Corsa took place in 1983. The first generation was represented by 3- and 5-door hatchbacks, 2- and 4-door sedans and a 3-door station wagon, which were modernized twice in 10 years - in 1987 and 1990. The line of power units consisted of 5 gasoline engines with a capacity of 45 hp and more. The second generation came out in 1993. Four years later, the Opel Corsa was updated, but they did it in such a way as to preserve the recognizable and beloved image of the car.
Opel Corsa received a new grille and front bumper, plastic edging wheel niches, wider side moldings. The bumpers of most modifications are now painted in body color. The car's interior has remained the same, but the technical stuffing has undergone major changes. The car is now equipped with an electric power steering, modified front wheel suspension, and under the hood - a brand new three-cylinder engine of the ECOTEC family with a displacement of 1 liter and 55 hp. The maximum speed of 150 km / h. Acceleration to "hundreds" in 18 seconds. Corsa is produced in ten factories - in Spain, Germany, Portugal, Brazil (2 plants), Colombia, Ecuador, Venezuela, Mexico and South Africa.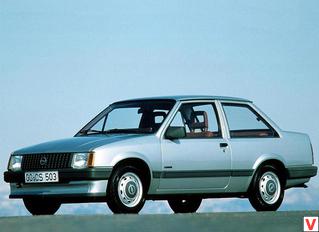 In different countries, Corsa is sold under different names. For example, in Brazil it is Chevrolet Corsa, in Mexico - Chevrolet Chevy, in Australia - Holden Barina (Holden - Australian branch of General Motors), in England - Vauxhall Corsa, in Japan - Opel Vita. Corsa, produced in different countries, is distinguished not only by its names, but also by its bundle, engines, and even bodies.
For eleven years of production in 80 countries, about 6 million were sold. However, seven years is a bit too much even for such a successful car, and the aging Corsa began to lose in the fight against newer models of its main competitors. And in 2000, sales of the third generation began. Opel Corsa 2000 model range of revolutionary changes there, it is not very different from its predecessor. In the updated exterior appeared hood, divided by a face into two halves.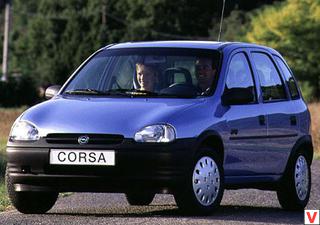 Rear - vertical lights, ranked on the pillars of the body. The updated front end with a more massive grille and sharply defined almond-shaped headlights gives the third generation Corsa a more aggressive and dynamic look. The wheelbase is 2491 mm, a record figure for cars of this class. The interior has become a bit more spacious, the internal width has increased by almost 80 mm, and the total length of the car has increased to 3820 mm. Solidity was added not only in appearance: the body stiffness increased by a third. The engine and front suspension are now mounted on a closed subframe, which improves not only strength but also comfort.
The new DSA (Dynamic Safety) chassis allows the car to hold the road perfectly even at high speeds. The center console contains the Siemens multifunctional system, comprising a radio, a CD changer, a telephone and a voice-activated navigation system. At the top of the panel is a multifunctional information display. The range of power units is extensive.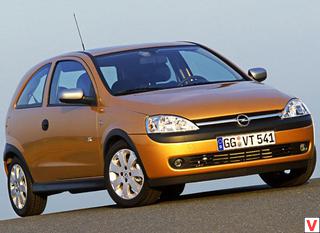 A choice of engines of various sizes and capacities are offered: from a modest three-cylinder gasoline engine of 1 liter capacity of 58 hp. Four-cylinder turbo diesel engines with direct fuel injection have the same volume of 1.7 liters, but due to different boost pressure they differ in power of 65 and 75 hp. Fuel consumption 4.7 liters per 100 km. In all versions, the Corsa will remain an economical car.
All gasoline units meet the environmental requirements of Euro 4, and diesel Euro 3. All cars are equipped with power steering and ABS, working in conjunction with an electronic brake force distribution system. For Corsa, there are three types of transmissions. In addition to the five-speed manual and four-speed automatic transmission, the Easytronic system is equipped, which is a conventional manual gearbox that can be switched without squeezing the clutch, both in automatic mode and at the driver's choice.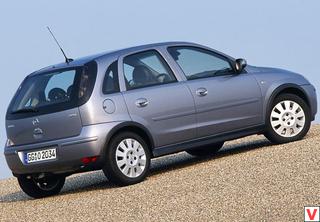 Front and side airbags at the front are standard equipment along with active head restraints. In 2003, minor cosmetic changes were made. Slightly reworked chrome grille. Body-colored bumpers defended with black moldings. In the interior trim, new colors and finishing materials, in six versions.
In addition, the standard equipment includes ABS with Brake Assist and the Follow Me Home system, which accompanies the driver with headlights from the car to the door of the house, and the option list includes xenon and ESP. Old-timers remained in the series of gasoline engines - engines 1.0, 1.2 and 1.8 (60, 75 and 125 forces, respectively). The long-awaited debut of the fourth generation subcompact Opel Corsa was held in 2006 in London. The car turned out muscular, smiling and with a claim to sportiness. It is based on the Gamma platform, which is the first joint brainchild of GM and FIAT.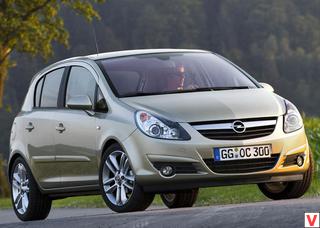 Thanks to this platform, Corsa has grown in size: the length (3,999 mm) increased by 160 mm, the width (1707 mm) increased by 60 mm, the height (1490 mm) increased by 50 mm. The wheelbase is 2511 cm long. The trunk has added 15 liters in volume and can now hold up to 275 liters. Body models traditionally have three or five doors. The five-door version is 24 mm wider than the three-door version. The fourth generation Opel Corsa is assembled at a car factory in the German city of Eisenach and Zaragoza (Spain). Externally, the new Corsa is significantly different from its predecessor.
But it has similar features with the Opel Astra: angular headlights, a pointed hood and chrome strips along the back side next to the bottom. In general, the exterior turned avant-garde and original. The interior deserves special attention. The manufacturer offers an unprecedented breadth of choice of finishes. Inside, there are many compartments for storing various trifles, spectacular and original design techniques, such as transparent buttons and dashboard levers (whose presence depends on the configuration).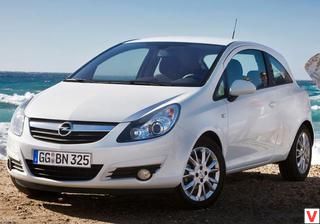 Crosa is equipped with three petrol engines (1.0 l / 60 hp, 1.2 l / 80 hp and 1.4 l / 90 hp) and three diesel engines with turbocharging (1.3 CDTi with 75 and 90 hp , and 1.7 CDTi with 125 hp). All gasoline engines are equipped with Twinport's economical fuel consumption system. All diesel units are serially equipped with a diesel particulate filter. However, diesel versions will not be delivered to Russia. Depending on the configuration, the Corsa is equipped with 5- and 6-speed manual gearboxes and an automatic Easytronic gearbox. Engineers have developed a completely new chassis for Corsa.
If desired, you can order the ESP stabilization system with the newest EUC (Enchanced Understeering Control) function: by correcting driver errors, the automation will individually brake each of the four wheels or all together. And for the "basic" money, the owner will receive advanced ABS with the function of CBC (Cornering Brake Control), which is almost equivalent to the stabilization system.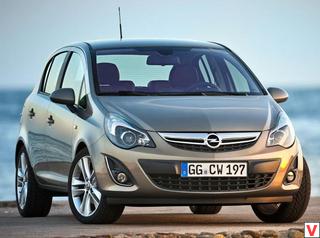 The electronic stuffing of the Corsa is impressive: adaptive halogen headlights that change the angle and strength of lighting depending on the speed and angle of the steering wheel, navigation system, CD player with the ability to play MP3, Bluetooth connectivity of next-generation mobile phones with voice control. On the Corsa, you can install tires that allow you to safely move even on a flat tire, and many other nice additions. In the form of options will be offered low sports suspension, 17-inch wheels and power steering, changing stiffness depending on driving conditions. Another interesting technical novelty is a retractable platform that allows you to fasten two bicycles on it.
The system is called "Flex-Fix" (Flex-Fix) and is offered as an option. In 2007, a charged version of the Corsa OPC (developed by the Opel Performance Cente division) appeared. Its main highlight is a 1.6-liter turbocharged engine with a power of 141 kW / 192 hp, which accelerates a compact car from zero to 100 km / h in 7.2 seconds with a top speed of 225 km / h. The exterior of the Corsa OPC also reflects the sporty character of the car.
Roof spoiler, powerful front and rear apron with distinctive "gills" add a certain charm to the model. The centrally located triangular exhaust pipe and specially designed exterior mirrors look original and attract attention. The Corsa OPC comes with 17-inch alloy wheels with dimensions of 215/45 R17, while 18-inch rims and tire size 225 are available as options. A large 16-inch brake system with beautiful blue calipers ensures a strong deceleration. The Corsa OPC boasts ventilated 308 mm front disc brakes and 264 mm rear disc brakes.
In 2010, the model was restyled. Opel Corsa received a small aesthetic changes, new colors for body painting, and also added to the range of its engines. Through the efforts of designers, the exterior has become more modern and a bit more aggressive. The main changes fell on the front part - they put a new false radiator grille, which is crossed by chrome cross strips, and a front bumper with a large air intake in the middle.
Changed the shape of niches under fog lights. Headlight cut has become more expressive, not least due to the black color of the inner surface. Fresh design also got rims. In this case, the back of the Corsa left unchanged.
For lovers of individual adaptation, a ready-made Linea package is offered, which provides for placing on the car body two adhesive strips (white or black) that will cross it at full length, as well as special rims and hubcaps. Inside, the changes are even less. Added several new interior trim options.
Complete set of steel richer. In addition, customers now have access to a multimedia navigation system with a Bluetooth module and USB connectors for connecting an iPod. Restyling touched and motors.
EcoFLEX returned to the list of versions of the compact city car, equipped with a 1.3-liter diesel engine CDTI with a capacity of 95 horsepower and a Stop & Start system.
Other autos category Opel