The Infiniti QX80 is a renamed model of the QX56. The car almost did not change either externally or internally, with the exception of a few elements. The debut of this model took place in 2013. SUV produced both with full and with rear wheel drive.
Solid dimensions give the car masculinity, and sleek lines of the hull grace. Branded grille, air intakes and 22-inch alloy wheels complement the image. Features cabin Infiniti QX80 amaze with its functionality and practicality. The cabin can have seven or eight seats. Folding chairs of the second and third row provide an opportunity to transform a vehicle for the transport of bulky goods. If you fold all the seats, the luggage capacity will be up to 2,693 liters, thanks to the almost flat floor surface.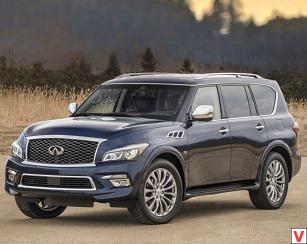 Heated first seats are equipped with an electronic package for adjusting their position, as well as with four-zone climate control setting buttons, which provide individual temperature parameters for each passenger. Modern materials and luxurious texture create an atmosphere of comfort and elegance. Special skin treatment provides softness and creates a breathable effect for optimum comfort in hot or cold weather. Infiniti engineers supplied the main area inside the cabin with sound-proof double glazing in order to protect passengers from unwanted noise.
On the Infiniti QX80 installed the most modern multimedia equipment. Depending on the chosen configuration, the car can be equipped with a navigator with a built-in hard disk, a two-channel Bose audio system with 13 speakers, Hands Free, an infotainment DVD system with 7-inch color displays, support for the Bluetooth interface, and a USB connector for compatible devices, the ability to play audio via Bluetooth and more. One of the main technical features of the Infiniti QX80 is the presence of a roll suppression system. Instead of the rear axle, a fully independent suspension is installed here, with pneumatic elements supporting constant ground clearance.
At the same time there are no anti-roll bars in the car. Instead, they installed a hydraulic system, Hydraulic Body Motion Control, consisting of hydraulic cylinders mounted on each shock absorber, and connected to each other by means of highways, through which fluid flows. In addition to the suppression of rolls, this system improves smoothness due to the separate regulation of vertical and angular oscillations. Infiniti QX80 drives a 5.6-liter V-shaped gasoline engine. This unit produces 405 hp. power and 560 Nm of torque, working in tandem with a 7-speed automatic transmission with manual shift. On a 100 km track in a combined cycle, an SUV consumes 14.5 liters of fuel.
In the list of basic equipment there are six airbags, a stabilization system, leather trim, four-zone climate control, a multimedia system with a DVD player and navigation, all-view cameras, heated all seats, light and rain sensors, parking sensors in front and behind, a sunroof electric, bi-xenon headlights, alloy wheels. The equipment of the Infiniti QX80 in the performance of Hi-tech is complemented by an "advanced" audio system and active safety systems (maintaining distance, preventing collisions, controlling blind spots). Infiniti QX80 demonstrates a truly modern and serious approach to safety.
Multi-stage technology Infiniti Safety Shield not only monitors the road conditions, but also protects in the event of an accident. The SKD for the Russian market is carried out at the Nissan plant in St.
Other autos category Infiniti