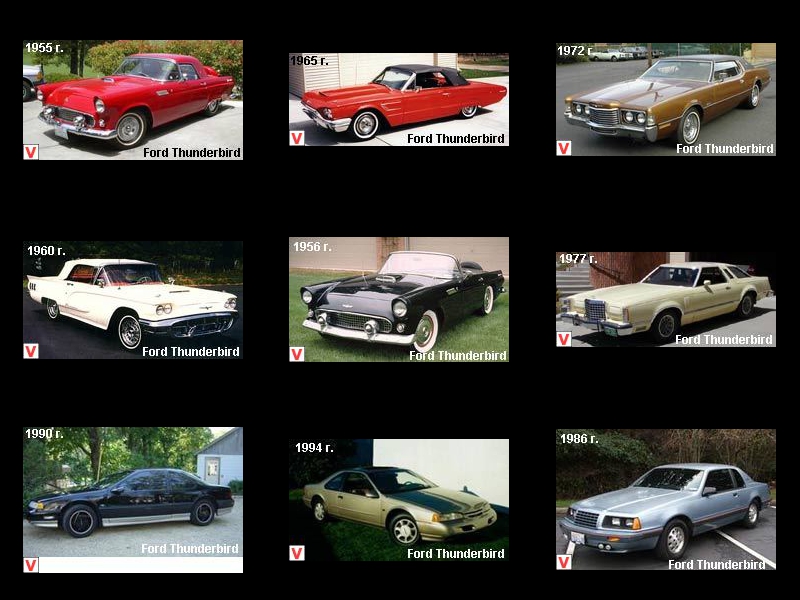 Thunderbird is a legendary car of the fifties and sixties. Among his admirers you can find truly iconic figures. For example, John Fitzgerald Kennedy, who included 50 brand-new cars of this brand in his inaugural cavalcade. The movie star Marilyn Monroe possesses a delicate pink Thunderbird.
Translated from English Thunderbird "Thunderbird". Roots in American Indian mythology. This bird was a totem of some tribes and at the same time a folk character. The wonderful bird was considered the messenger of the gods, she ruled the sky and helped people to preserve the harvest. Traditionally, it is depicted with a sharp curved beak, a tuft on the head and wings spread to the sides. Since the debut of February 20, 1954, and up to now, all Ford Thunderbird cars have been decorated with one or another version of the Indian totem.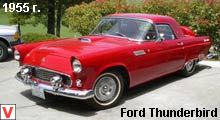 It was Elden Giberson, a young employee of a promising design studio, who called this model a sports model of the company, and designer William Barnett embodied the idea in metal. The appearance of the Thunderbird is a kind of response from Ford to the release of General Motors model Chevrolet Corvette. And it is worth recognizing the answer is good, because in the first 10 days of sales only 3,500 applications were received from those who wanted to buy a car.
Thunderbird was sold only with an open body, but was equipped with easily removable hard plastic top. Everyone liked the car so much that he was forgiven for minor inconveniences, for example, a small trunk, because of which the spare wheel was mounted on the rear bumper with a special bracket. For two seasons, Thunderbird was released almost unchanged. When preparing the 1957 model, the rear end of the body was extended, thereby increasing the amount of luggage, as well as more clearly outlined the fashionable tail wings. Slightly changed the front end, dashboard and interior design.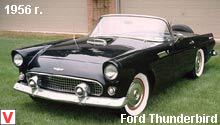 Especially for the 1957 model, a radio receiver was developed, which automatically increased the sound volume in proportion to the vehicle speed. The two-seater Thunderbird 1957 is replaced by a less sporty model: a larger, more refined and already four-seater Square Bird. From a commercial point of view, the four-seater version was more successful than the double one. He was on the conveyor for three years, and the demand for him was much higher. Models of the years 1958-1960 were offered in two versions: open and closed.
There were no particular differences between the models of different years: only the number and configuration of the overlays on the sides, the location of the name, the shape of the air intake cut-out in the front bumper and the number of taillights changed. Another change of model occurred in 1960. Now Thunderbird was equipped with a 6.3 liter engine producing 300 hp. The 1967-1969 model was an amateur car. In 1974, the next "Thunderbird" appeared - Big Bird with a new design of the grille, fanged bumper and a less powerful engine. But he worked on unleaded gasoline, and his exhaust was purified by a catalyst.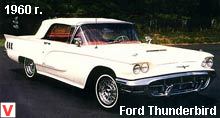 In 1983, the Ford Thunderbird Coupe appears with a streamlined body, the work of Jack Thelnack. Modification Turbo Coupe equipped with a 4-cylinder engine with a 140 hp turbocharger. Acceleration from zero to 100 km / h - 9.6 seconds. Further, the story developed in such a way that from an elegant two-seater Ford Thunderbird sports car turned into an ordinary four-seater car of the 90s, and its original concept was completely lost. In 1997, due to a catastrophic drop in demand, the last version of Thunderbird was discontinued.
He was equipped with a V8 power of 205 hp or a 6-cylinder engine with a 230 hp turbocharger. But the history of the model is not over. After 45 years, the style of this car was repeated, interpreted in the spirit of our time and in full accordance with the achievements of the most advanced technologies, as well as modern fashion. The stylistic reconstruction was carried out so carefully that such trifles as a company inscription, round headlights, metal covers, a rounded hood, characteristic fog lights, taillights, and finally a Thunderbird signature label with a turquoise insert were not forgotten. At the same time, of course, the modern Thunderbird is still different.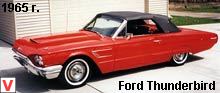 There are no rear carinae and massive chrome-plated bumpers on its body, and everything else is preserved, but as if younger. In 1999, a new generation of Thunderbird debuted at a motor show in Detroit. Its mass production began in 2001 at a plant in Michigan. Double Roadster successfully stylized model of 1961: an oval grille, bumper shape, wheel arches and large round taillights lead the viewer into the past. But technical solutions, the new Thunderbird is looking to the future. Despite its fascinating forms and seeming individuality, Thunderbird took over a lot from the Lincoln LS architecture.
For example, the car is built on a new rear-wheel drive platform DEW, on which the Lincoln LS and Jaguar S-Type are designed. Salon Thunderbird 2002 exactly repeats the interior of Lincoln LS. The design of the streamlined central dashboard is very well thought out. The devices are located so that they are perfectly visible to the driver, and the audio system and climate control system are arranged in such a way that they are very easy to use. Despite the fact that the exterior of the car is made in a retro style, its interior is different modern design.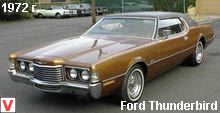 Upholstery, steering wheel and gear lever trim can be made in one of 3 colors: Inspiration Yellow, Torch Red or Thunderbird Blue. According to the main components and parts, the Thunderbird is unified with the Jaguar S. Independent front and rear wheel suspenders, containing elements from lightweight alloys, are mounted on subframes.
Both cars use rack-and-pinion steering, disc brakes on all wheels with ABS and Traction Control, which is optional. The car's interior boasts amenities such as a dual-zone climate control system, a driver's seat with a sophisticated system of settings and a roll under the lower back, a telescopic steering column. Thanks to the long wheelbase, the legroom is quite large and makes up a little more than a meter. A black soft folding roof is standard on the Thunderbird, however, if desired, the buyer can get a car with a removable hard top. In addition, the roof can be made in the same colors as the car body itself.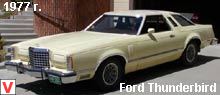 A large rear window located on a removable roof provides a good view of what is happening behind. 17-inch, 21-spoke aluminum wheels are standard on the Thunderbird 2002, while 17-inch, 7-spoke chrome wheels are only available as an option. The trunk, which is 190 liters, is quite capacious for a 2-seater car. A 32-valve V8 engine made from aluminum alloy with a capacity of 3.9 liters and 260 hp is used as a power plant.
at 6100 rpm, equipped with Ford-EEC-V electronic fuel injection system. It is aggregated only with a 5-speed automatic transmission. Thunderbird's top speed is artificially limited to 130 miles per hour. The rich standard equipment includes: 4 airbags, 4-spoke, leather-wrapped, steering wheel with audio and cruise control, a first-class audio system with 6-disc CD changer, automatic wipers and a proprietary anti-theft system SecuriLock. Accordingly, the list of additional equipment is small: chrome wheels instead of painted, hard removable top, Traction Control system and a package of elegant interior design.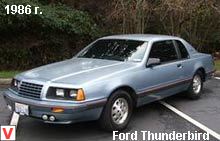 Thunderbird - one of the most famous models of Ford, in 2004, celebrates its 50th anniversary. In honor of this event, Ford releases a special series, which will be called so - 50th Anniversary. For 50 years of production, models with a sedan, a coupe and a convertible, which have spread around the world in quantities of about 1.2 million, have seen the light. Thunderbird starred in films, participated in races, and now present on American postage stamps.
In 2000, a special series of 200 pieces of cars of the 2002 model year was released for sale only through the Christmas catalog of the Neiman Marcus Christmas Book. This catalog introduces readers to elite samples, which are sold only on pre-orders. They differ from serial samples in elegant finishing and a number of design decisions. In the spring of 2003, Ford sold 700 copies of the limited series "007" in memory of the participation of the car in the James Bond films.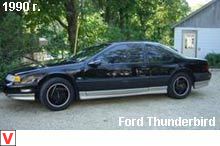 And another series in the amount of 1,500 Pacific Coast Roadster Thunderbird roadsters was sold in 2004. Today, Ford plans to curtail the production of the stylish Ford Thunderbird retro car as early as 2005 or 2006 model years. Representatives of the company explain this decision to the low popularity of this model among customers. Meanwhile, Ford representatives do not exclude the possibility that after some time a completely new car may appear under the name Ford Thunderbird, which, like its predecessor, will be produced in limited editions.
Other images auto Ford Thunderbird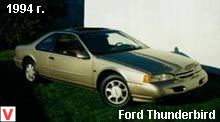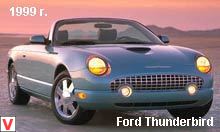 Other autos category Ford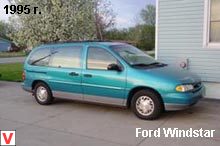 Ford Windstar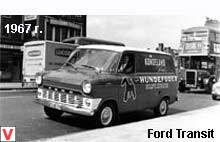 Ford Transit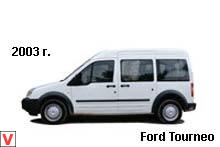 Ford Tourneo Connect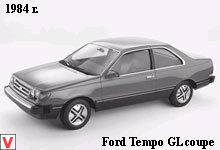 Ford Tempo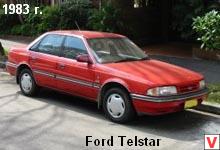 Ford Telstar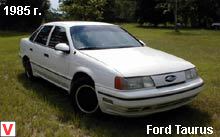 Ford Taurus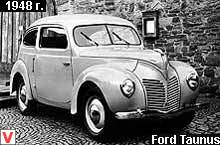 Ford Taunus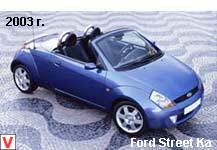 Ford StreetKa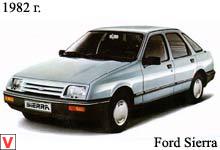 Ford Sierra