In February 2000, Ford specialists began the development of the StreetKa prototype. In the same year, the prototype was presented to the public at the Turin Moto Show. Rave reviews from the public and the press made Ford think about the serial production of StreetKa. Participated in the development of the model took the famous Italian design studio "Pininfarina". In the process of work, it was decided that for the new model most of the components would be unique.
From the model Ka remained only the platform and engine compartment. Everything else is original. The first production model was shown at the Paris Motor Show in 2002. It is a surprisingly compact and elegant convertible, with a folding soft top. The mechanism of laying the top takes up little space, which made it possible to keep a fairly spacious (relative to other similar machines) trunk volume of 0.214 m3. Ford StreetKa - not just an open version of the usual hatchback "Ka".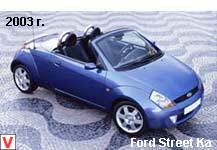 This is a separate model with a very individual appearance and other technical stuffing. This is a rather unusual, stylish and dynamic car. Inside StreetKa is decorated brighter and smarter than the usual Ka. It also looks more aggressive due to the installation of wider tires and increased wheel track. The suspension has been revised, and has become tougher.
The power steering has become more "sharp" - only 2.6 turns of the steering wheel from lock to lock. In the role of the driving force of the gasoline 8-valve engine 1.6-liter capacity of 95 hp complete with five-speed manual gearbox. Acceleration to 100 km / h takes 12.1 seconds. Fuel consumption of 7.9 liters per 100 km. In the StreetKa Luxury package, there is air conditioning, a sports steering wheel covered with leather, a car stereo, an alarm system, power steering, alloy wheels, a soft folding roof, ABS, heated seats, airbags for the driver and passenger. Mass production began in 2003. StreetKa has a great success with customers.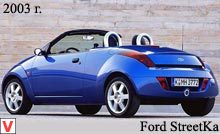 Other autos category Ford