The front-wheel-drive car of the European class D Fiat Marea was developed based on the Bravo / Brava models and first introduced in July 1996. Unlike Bravo / Brava Marea hatchbacks, it had a sedan. Magea, which had grown to a full-fledged middle class, immediately gained recognition in the Western European market. With the same style decisions and overall design, Marea has increased overall dimensions, more expensive finishes, and a wider choice of the proposed additional equipment.
In the spring of 1997, Marea cars were launched on the Russian market, and in 1998, the Arctic version of the Fiat Marea was developed specifically for Russia. In 2001, Marea models were discontinued in Italy; production continued at the Brazilian FIAT plant in Betim-Minas Giraesh, as well as in Turkey at the Tofas-FIAT joint venture (Bursa). Fiat Marea is available in two body styles - a sedan and five-door station wagon Marea Weekend. Modernization Marea and Marea Weekend Brazilian production was carried out in 2001. The rear part of the sedan has changed, a new interior has appeared with new trim materials and a steering wheel, the basic equipment has been expanded.
In 2006, the models were slightly "retouched" in the style of other Fiat models by a small face-lift. Despite the fact that the car basically has the Brava platform, it is longer and more spacious than the latter. The dimensions of the model are 4393/1741/1450 mm with a base of 2540 mm and a track 1475/1430 mm. The station wagon is 97 mm longer than the sedan, 85 mm higher and has more luggage space: 500 liters versus 430 liters of the sedan, and if you rearrange the rear seats, the trunk can be increased to 1,560 liters. The rear bumper can be folded down simply by pressing a button, turning into an additional shelf that can withstand a weight of up to 250 kg.
The load capacity of both models is 480/500 kg, respectively. Low ground clearance - 120 mm. The car's interior is made in the corporate Italian style, comfortable and ergonomic. Visibility is good; The location of the controls is convenient. Finishing materials are of sufficient quality for a model of this class. Convenience in front does not cause complaints, behind three adults passengers will be cramped.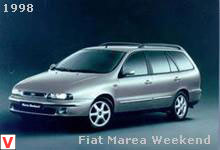 The list of basic equipment includes power steering, adjustable steering column, 2 front PB, electric windows and electric mirrors, air conditioning. For extra charge, there is an electric window, audio system with CD, 2 side airbags, electric front seats and much more. In the "Arctic" version, modified to meet Russian specifics, the floor, wings and body doors had double-sided galvanization, and the roof, hood and trunk lid - one-sided. The bottom and the wheel wells were protected by a two-layer polymer anti-corrosion coating, fenders were installed in the front niches, the plastic protection painted in body color covered the thresholds, and the clearance was increased to 170 mm.
The warranty period against rust on the body was 8 years, on the paintwork - 3 years. Standard equipment included power steering and vertical adjustment of the steering wheel, driver's airbag, ABS, electric heated mirrors, seat heating, electric windows in the front windows, immobilizer, central locking, headlight washers, headlight angle adjustment, driver's seat height adjustment and radio. Since 1996, a significant choice of power units, both gasoline and diesel, has been offered to Marea. With the most powerful of the petrol engines - the turbocharged 2.0 liter R5 20V (182 hp, 270 Nm), the car can accelerate to 100 km / h in just 7.4 seconds, and the maximum speed reaches 227 km / h.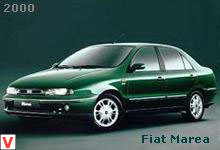 The Brazilian Fiat Marea also installs 1.6 liter petrol engines R4 16V (106 hp, 154 Nm), 1.8 liter R4 16V (132 hp, 164 Nm) and 2.4 liter R5 20V (160 HP, 205 Nm). The 1.6 liter engine can also be adapted to ethanol. Acceleration to 100 km / h in a 1.8-liter model takes 9.6 s, the maximum speed reaches 198 km / h, and fuel consumption is about 10 liters in the urban cycle. The dynamic performance of the Marea Weekend version with a 2.4 liter engine is also quite good and corresponds to 9 s to a hundred and the maximum speed of 205 km / h.
Marea delivered to Russia with a single 1.8-liter gasoline engine (paired with 5MKPP), equipped with four valves per cylinder, electronically controlled fuel injection and ignition, developed a maximum speed of 193 km / h and had acceleration to 100 km / h 10.6 c, while having a good economy: 6 liters of petrol AI-95 in the urban cycle and 10.1 liters - in the city. Marea Turkish production aggregated only 5-speed manual; For Brazilian models, a 4-speed automatic is offered for a surcharge (for a 1.6 liter engine). Independent suspension with anti-roll bars, assembled on subframes; Macpherson front, rear - on a single trailing arm.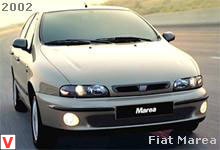 Hydraulic brakes with vacuum booster and ABS; front ventilated disc, rear - drum. For an additional fee, you can install disc brakes and rear. The standard tire size is 195/60 R15. Car safety is supported by ABS; for an additional fee it is possible to install the stabilization system ESP. At Fiat Marea original design, good dynamics, sharp steering and a fairly stiff suspension, providing good handling.
Other images auto Fiat Marea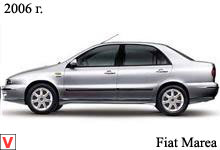 Other autos category Fiat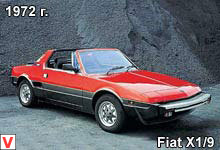 Fiat X1/9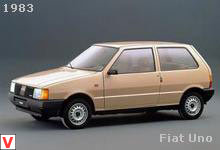 Fiat Uno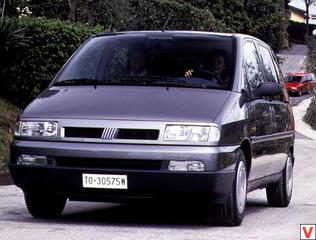 Fiat Ulysse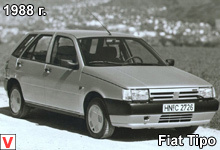 Fiat Tipo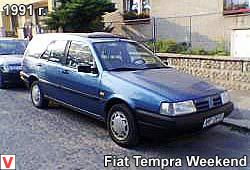 Fiat Tempra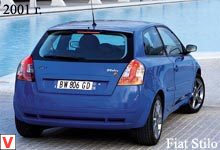 Fiat Stilo
Fiat Siena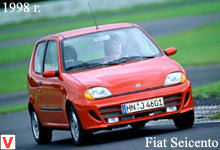 Fiat Siecento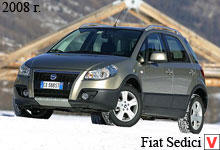 Fiat Sedici