In March 2007, the FAW Vita debut took place at the Geneva Motor Show. Release this model in the Chinese factory Xiali. The main components and assemblies of the car are licensed. The engine, gearbox and chassis are based on the Toyota Yaris technology base. As for the rest, this is a completely independent development of the concern. The exterior of the car is quite discreet and at the same time stylish. Special attention should be paid to the modern front optics with the LED ring Falkon Eye and the radiator grille with a honeycomb structure.
Sports front and rear bumpers, clearly defined wheel arches, combined rear lights and original alloy wheels give the car a dynamic look and aspiration. Bumpers and mirrors painted in body color. The body, by the way, is galvanized. Interesting enough and the interior.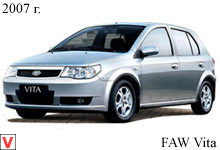 Salon is not only spacious but it also contains many pleasant little things, such as smoothly retractable cup holders, storage space for umbrellas, gloves and other small things. The two-tone seat upholstery is comfortable for the eyes and pleasant to the touch, the front panel is made of soft plastic, aluminum inserts. It all looks quite modern. The instrument panel is located in the center.
The seats have standard adjustment. The steering wheel can be adjusted only in height. Behind the two passengers will accommodate with convenience - plenty of legroom. Under the driver's hand - a lever of 5-speed gearbox, handbrake, power window buttons and joystick mirrors electrically. The modest size of the trunk is compensated by folding seats. Informative steering wheel, Japanese soft suspension, excellent maneuverability, cornering stability - the FAW has it all to be a worthy competitor in its class.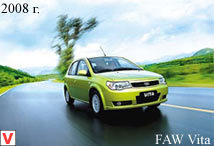 Engines with intelligent adjustment of the 1.3-liter valve opening phases guarantee minimum fuel consumption. Clearance is 155 mm, which is quite good for our roads. Standard equipment offers power steering, full power, air conditioning, 14-inch wheels on cast wheels, a full-size spare tire, central locking and a head unit with a USB-input. When creating the Vita, FAW engineers paid great attention to all aspects of passive and active safety. The security system includes ABS, EBD, driver's airbag, height-adjustable seat belts, soft safety plastic and a "child lock" function on the rear doors.
Other autos category FAW