Audi S8 - luxury car, sports modification Audi A8. For the first time the car was shown in early 1999. Externally, the S8 is very similar to the A8, which has been produced since 1997. Model S8 is equipped with a V-shaped "eight" with increased to 340 hp. power and manual 6-speed gearbox. Systems of regulation of traction forces on wheels and electronic stabilization of movement entered serial equipment.
The car is offered with sports seats, a steering wheel and some other elements of a sporty finish. In 2000, a four-wheel-drive S8 with a 4.2 V8 engine appeared, on which a "smart" five-speed Tiptronic automatic gearbox was installed, equipped with a DSP system, which allows for "manual" gear changes. Transmission is almost flawless, shifting speeds completely unnoticed. In many situations, the S8 behaves not like a luxury sedan, but like a real sports car. This is partly due to the fact that it is lighter than many of its counterparts. All the springs and shock absorbers on it are somewhat tougher than on its fellows. Wheels - branded 18-inch wheels with 245 / 45ZR18 tires.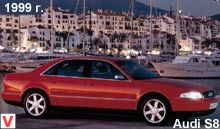 In the management of the A8 and S8 felt tangible difference. In the A8, the suspension is too soft, and this is felt on bad roads, while the S8 has a more aggressive suspension, although out of the external parameters only a double muffler tube has appeared. A small icon appeared on the grille and on the trunk lid. The quattro system gives the driver confidence and peace of mind on any road.
ABS works flawlessly - no matter how cool you get into the turn, the car will not lose stability. Also, the car is equipped with an ESP system that monitors the condition of the car and intervenes if necessary. The Audi S8 Sedan is notable for its exclusive interior design, comfortable sports seats and noble wood inlays. To modify the Audi S8 Office Package offers five modules rework, turning the car into an office on wheels. The first module includes a folding table mounted in the back of the right front seat with a polished wood table top, equipped with electric drive, lighting and cup holders.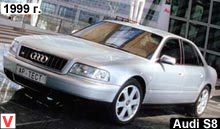 The second module is a mobile fax and an additional telephone with a separate line, mounted in the rear seat armrest. The third module is a television installation, video player and navigation system. The fourth module is a 7.5 l mini-fridge. The fifth module is a small bar.
You can order individual modules in any versions, as well as separate rear seats with electric drives. The model is equipped with a trailer device.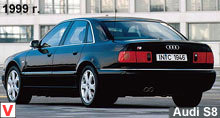 Other autos category Audi