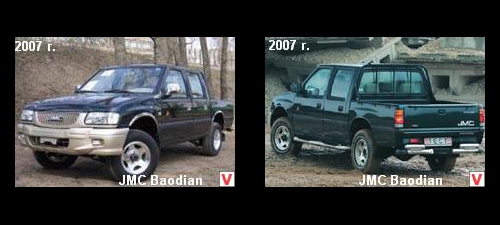 JMC Baodian pickup is manufactured by Chinese company Jiangling Motors Co., Ltd. (JMC), created in 1968. Since its introduction in 2007, the model is one of the best-selling cars in this segment of the domestic market. The dimensions of the 4-door 5-seater JMC Baodian body are 4975/1690/1710 mm with a wheelbase of 3025 mm; curb weight 1670 kg, and the full - 2495 kg. Payload pickup reaches 825 kg. Minimum ground clearance of at least 220 mm.
Standard equipment of the car includes the presence of power steering, two airbags, audio system, central locking, air conditioning, electric windows on the front windows, thresholds, protective cover of the cargo compartment, metallic paint and alloy wheels. There is also an ISOFIX child seat attachment mechanism. As options are available on-board computer, cruise control, climate control, headlight washers, fog lights, sunroof, leather interior, electrically adjustable and heated seats, electric and heated mirrors, parking sensors, immobilizer and alarm.
In the basic version, the pickup is equipped with a licensed, well-proven in the process of long-term operation, the Isuzu 4-cylinder turbo diesel engine with a capacity of 2.771 liters and a maximum power of 84 hp / 3600 rpm and with a torque of 172 Nm / 2000 rpm, giving the car sufficient dynamics and stock thrust. A car with such a motor and 4WD drive can accelerate to 120 km / h. Fuel consumption when driving on the highway is 7 liters per 100 km.
In addition to the base motor, the range of engines installed on the JMC Baodian includes petrol: 2-liter 114-horsepower and 2.4-liter with distributed injection capacity of 125 hp / 5250 rpm and 188 Nm / torque 3000 about (for versions with four-wheel drive, along with the engine 2.8 l) engines. The maximum speed of the car with a 2.4-liter engine and 4WD drive reaches 140 km / h, and the consumption of AI-92 gasoline in the combined cycle is 8 liters. Power plants are aggregated with a 5-speed manual gearbox, also licensed; her work is reliable and does not cause censure.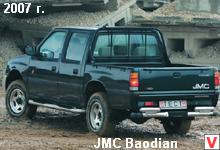 Both all-wheel drive versions of the JMC Baodian and rear-wheel drive-only vehicles are produced. Front independent suspension and rear gearbox borrowed from Isuzu Trooper; These units are quite reliable and have good maintainability. The active safety system in the basic equipment includes ABS, ESP and TC. The size of standard tires is 215 / 70R15. Like any pickup, the JMC Baodian is an intermediate option between an SUV and a light truck. It can be recommended to those who need a multifunctional vehicle that can simultaneously carry up to 5 people and a variety of goods.
Other images auto JMC Baodian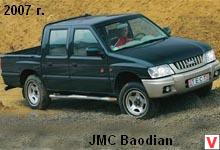 Other autos category JMC