In October 1983, the division of micro trucks and vans (Sambar) prepared a remarkable new product - a one-volume Subaru Domingo minibus with all-wheel drive. The name Domingo comes from the Spanish "domingo", which means "Sunday". Remarkable is the fact that in Europe the car received a different name - Libero. From the side, this minibus looked quite compact (3410mmx1430mmx1870mm), but at the same time it could hold six people or 600 kg of cargo. Domingo had a unique transformation of the cabin. In some versions of its seats recline or fold, and the front can rotate around its axis.
Thus, an incredible amount of useful space of 2500 liters is achieved. The carriage layout allowed placing three rows of seats inside. For the convenience of landing / loading body has two side sliding doors. Buyers can order an improved version of the model with high-quality interior trim, additional equipment, a transparent roof or two large sun hatches. The first version of the minibus was installed three-cylinder engine of 1.0 liter capacity of 50 hp. The maximum speed of the car with this power unit was 128 km / h.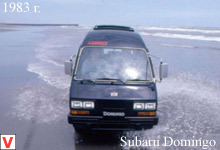 The engine is located across the longitudinal axis of the vehicle and transmits torque to the rear axle. In 1986, the Subaru Domingo received a 1.2-liter engine with a capacity of 52 hp. With him, a minibus can accelerate to 130 km / h. A small amount of engines allows you to talk about Domingo as one of the most economical minibuses. With the deterioration of the road, you can connect a front-wheel drive, which improves the cross-country ability of the car on slippery roads with poor coverage. In 1994, the car experienced a restyling, its appearance changed, the comfort of the passenger compartment increased, the engine became more powerful (1.2 l / 54 hp).
The windows were equipped with electric lifts, the headlights became more powerful, ensuring the safety of movement at night. In Japan, Domingo was a huge success. Small, nimble, cheap and amazingly roomy.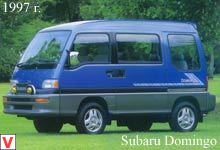 Other autos category Subaru