The Subaru Baja car is a lightweight, mid-size all-wheel-drive pickup truck, which was first introduced by the Japanese car company Subaru on July 18, 2002 at the Detroit auto show. The model was built on a hybrid platform, which includes components of the Subaru Outback and Subaru Legacy. With regard to technical equipment and body panels, the model Baja also used structural elements Legacy and Outback. The design of the body combines both a pick-up truck due to the small open body compartment at the back and an SUV. Plastic protective panels are installed around the perimeter of the car.
Another feature of the body structure is that the partition behind the folding rear seats (separating the passenger compartment from the cargo compartment) can be dismantled if necessary to transport oversized cargo. This option is named by the manufacturer as "Switchback". And also for additional space, you can still use the hinged rear tailgate. The wheelbase of Subaru Baja was 2,649 mm, length - 4,905 mm, width - 1,781 mm, and height - 1,631 mm. Clearance of the car is only 185mm.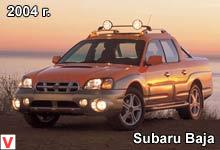 For the car Subaru Baja offered two options for gasoline four-cylinder engines H4 2.5 liters. The base power unit had a power of 165 hp, and its turbo version developed a power of 210 hp. As for the transmission, it was available as a 5-speed manual gearbox and 4-speed automatic transmission. The suspension from Baja is borrowed from the Outback, but has been modified and strengthened, which made it possible to operate the car under rather harsh road conditions. This also contributes to the four-wheel drive. It is also worth noting that the suspension of the Subaru Baja is independent both in front and behind.
On automatic transmissions, all-wheel drive transmissions have a different design. As the center differential, a multi-plate clutch with electronic control is used, and the sensors monitor the slippage of each wheel. Consistent with them, the control module regulates the distribution of the moment between the axes.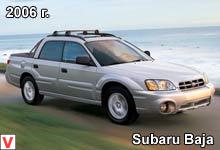 The interior of the Baja pickup in its concept differs little from the saloon of the usual Subaru Outback. Aluminum decorative inserts in the center console and door key blocks, two-tone (matt silver) upholstery (even the steering wheel is sheathed in two shades of leather), the steering wheel and the gearshift lever are covered with soft leather. Baja comes standard with luxury systems such as heated front seats, a non-contact key, a CD player, climate control and tinted windows.
The seats, covered with perforated leather, are quite comfortable and ergonomic. The driver's seat has six levels of customization. In the rear seats can comfortably accommodate only two adults. The launch of the Subaru Baja model was completed in April 2006. Despite the fact that according to the plans of Subaru, sales should have been 24,000 cars per year, for the entire production time from 2002 to 2006.
Other autos category Subaru