The Rolls-Royce Silver Wraith is the first post-war model from Rolls-Royce, which was first introduced by a British car company in 1946. Its production was launched at a plant in the English city of Crewe. The Silver Wraith was offered by the manufacturer in a 4-door and 2-door bodies, and there were also open-top versions.
The first Rolls-Royce Silver Wraith cars had a wheelbase of 3,226 mm in length, and the chassis design was borrowed from the model that was produced before World War II and was called the Rolls-Royce Wraith. The front suspension of the Silver Wraith was independent spring, and the rear was based on leaf springs. Under the hood housed the engine, which was also developed on the basis of the power unit from the former Wraith. The engine has received a new cylinder head. The volume of the six-cylinder engine was 4.3 liters.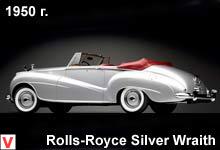 The car's braking system had a hybrid hydromechanical design that included hydraulic front brakes and mechanical rear brakes with a servo-mechanism borrowed from pre-war machines. In 1949, a Rolls-Royce Silver Wraith-like model called the Silver Dawn, which was based on the Bentley Mark VI chassis, was launched. In 1951, Rolls-Royce introduced the Silver Wraith version with an extended wheelbase, which was 3,378 mm. Until 1959, only 639 copies of this modification were released.
Also in 1951, the volume of the proposed engine increases to 4.6 liters. It is worth noting that the last car with a short wheelbase was assembled in 1953. In 1954, the working volume of the power unit once again increased and reached 4.9 liters. As for the transmission, only a 4-speed manual gearbox was originally offered, and since 1952, as an option, it was possible to equip the car with an automatic transmission that was assembled by the American company General Motors. In 1955, Bentley launched a copy of the Silver Wraith model, called the Bentley S1, into the production program.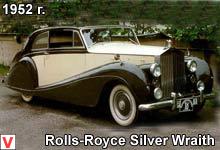 Note that the model Rolls-Royce Silver Wraith in 1947 was used as a government vehicle in Ireland, and in 1952, as a presidential vehicle for ceremonies in Brazil. The launch of the Rolls-Royce Silver Wraith was completed in 1959. For the period of its production from 1946 to 1959.
Other images auto Rolls Royce Silver Wraith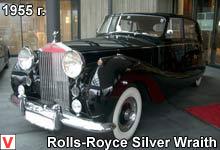 Other autos category Rolls Royce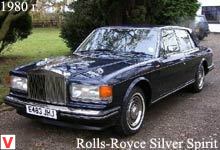 Rolls Royce Silver Spirit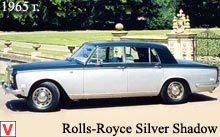 Rolls Royce Silver Shadow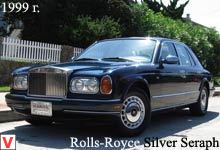 Rolls Royce Silver Seraph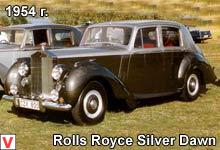 Rolls Royce Silver Dawn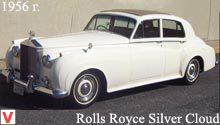 Rolls Royce Silver Cloud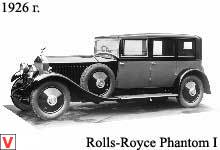 Rolls Royce Phantom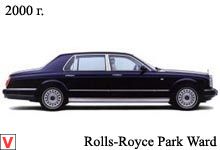 Rolls Royce Park Ward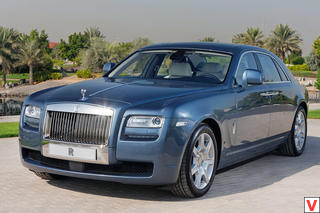 Rolls Royce Ghost