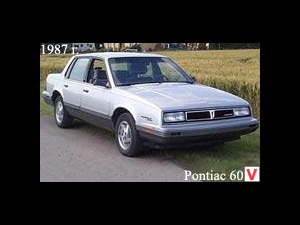 The Pontiac 6000 is a mid-size car manufactured by General Motors from 1981 to 1992. Built on platforms such as the Buick Century, Chevrolet Celebrity, Oldsmobile Cutlass Ciera, and Oldsmobile Cutlass Cruiser station wagon. The model was made in Canada, Ontario from 1981 to 1988 and in Oklahoma City, Oklahoma, until production ceased in 1991. Also for several years, the Pontiac 6000 met in New York.
By 1984, this car became the best-selling Pontiac lineup. For all the production time, more than 122 thousand cars were sold. In 1983, a sports model called the Pontiac 6000 STE appeared on the market. This version allowed the company to compete on equal terms with European sedans such as the BMW 3 Series and Mercedes-Benz 190E. The Pontiac 6000 STE wagon debuted in 1984, and the sports sedan and S / E wagon, designed to consolidate the success of the STE, appeared in 1987. Installed on the machine V6 engine capacity of 2.8 liters. Capacity was 141 l / s. At the end of 1987, a 5-speed gearbox appeared as an option.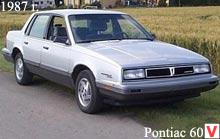 In 1988 and 1989, a rare STE version with all-wheel drive, a fully independent suspension, a 3.1-liter V6 engine and a three-speed automatic gearbox were produced. In 1989, made reystaling models. Exterior has undergone minor cosmetic changes.
The windshield began to have a more curved shape, which gave the best drag coefficient compared to the previous model. By 1990, the Pontiac 6000 was still in fairly high market demand. GM even considered a model upgrade option, but this did not happen and the production of the Pontiac 6000 was completed on July 5, 1991. The Pontiac 6000 station wagon was no longer in production much earlier, in 1990.
Other autos category Pontiac