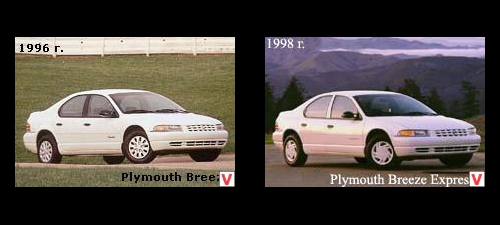 The mid-size Plymouth Breeze front-wheel-drive sedan was manufactured by DaimlerChrysler from 1996 to 2000 at a factory in Sterling Heights (Michigan). Its predecessor was the Plymouth Acclaim. Similar models were the Chrysler Cirrus and Dodge Stratus, produced since the end of 1995. The car had a 4-door body, in the basis of the design was a platform Chrysler JA. The wheelbase in the year when production began was 2,746 mm; in subsequent years, it decreased to 2,743 mm. The 1996 version had a length of 4724 mm, since 1997 the length of the machine has grown by 8 mm.
The width of the model is 1803 mm, and the height is 1374 mm. Front and rear track - 1529 mm. The curb weight of the car was 1443 kg. The maximum weight of the towed trailer with cargo reached 454 kg.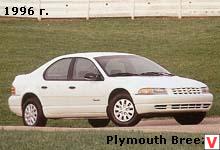 The design of the Breeze used the exterior details of the full-size Chrysler Concorde, Dodge Intrepid and Eagle Vision sedans. The characteristic features were pointed taillights and grille. Models of 1996 and 1997 are somewhat different from each other by the center console, the presence of additional boxes for small items and the design of the rear seat.
The car included a height-adjustable steering wheel, cruise control, air conditioning, power windows, central locking, a button for remote unlocking of the trunk from the driver's seat, an AM / FM stereo system, rear window heating and a sunroof. The most complete equipment received version Expresso, produced from 1998 to 1999 and had a sports design dashboard and steering wheel. Plymouth Breeze was equipped with 4-cylinder in-line 2 liter petrol engines A588 I4 (132 hp) with a gas distribution system SOHC and 2.4 liters EDZ I4 DOHC (150 hp). The maximum torque was 224 Nm and 226 Nm respectively.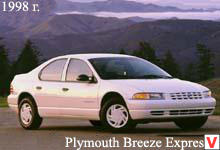 The 2-liter engines were fitted with a 5-speed manual gearbox as standard, and the 2.4-liter engines had a 4-speed automatic 41TE. The active safety system of the car included a power brake and ABS, passive - two airbags in front, central locking doors and a mechanism for mounting the child seat in the back. Despite the fact that Breeze offered softer suspension settings, as well as some special equipment packages (such as Expresso), it was positioned at a lower level in the Cirrus / Stratus family. The consequence of this is that the model is not installed engines V6, widely used on the Chrysler Cirrus and Dodge Stratus.
In 1997, Car and Driver magazine included Plymouth Breeze in the top 10 cars of the year. In early January 2000, the production of Breeze was discontinued, it was the last mid-size model of Chrysler Corporation under the Plymouth program. Moreover, the Plymouth brand itself ceased to exist.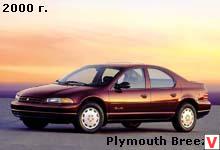 Other autos category Plymouth