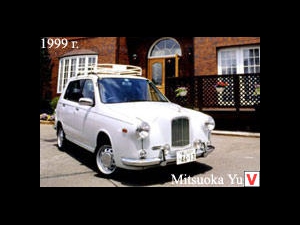 The Mitsuoka Yuga is a four-seater, five-door minivan-type car that was manufactured by the Japanese company Mitsuoka Motors from 2000 to 2001. Mitsuoka Motors is a company that designs new enclosures for popular car models. As a base model, Nissan cars are most often chosen. Often, in the design of their cars Mitsuoka Motors uses retro elements, which gives the appearance of cars refinement and makes them look like the well-known brand cars. The first Mitsuoka Yuga appeared in March 2000.
The base model was the Nissan Cube. With this model, Mitsuoka Motors has become the official distributor of cars for the London taxi. Also Mitsuoka Yuga is sold without the attributes of a taxi. In appearance of the car it is difficult to guess his relationship with the Nissan Cube. The car was almost half a meter above its prototype. Its dimensions were 4110x1610x1625 mm. The front of the car was decorated with impressive chrome parts, a rectangular grille and large round headlights.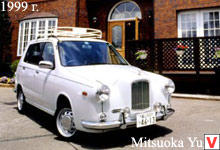 The body of the car has become more streamlined. All these details of the exterior design of the car evoke an analogy with the Austin Taxi Cab. Under the hood, the Mitsuoka Yuga housed a four-cylinder DOHC engine equipped with a water cooling system with a displacement of 1.3 liters manufactured by Nissan. The power of such a power unit was 85 hp at 6000 rpm. The car was equipped with front disc and rear drum brakes, power steering, anti-lock braking system (ABS), auxiliary braking system, seat belt pretensioners, as well as fasteners for child seats were provided in the car. The four-speed automatic transmission was installed on this model.
Produced two versions of the car, which differed drive: cars with the name «Royal» were front-wheel drive, and the version called «Deluxe» - all-wheel drive. The interior of the car was very spacious, which made it quite comfortable to accommodate it even when fully loaded. This was facilitated by two rows of comfortable sofa-type seats.
The luggage compartment was significantly modified by the designers of Mitsuoka Motors, as a result of which the trunk became more spacious and practical.
Other autos category Mitsuoka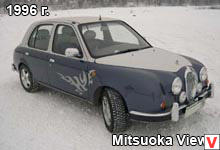 Mitsuoka Viewt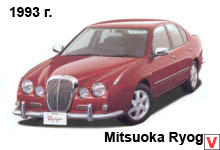 Mitsuoka Ryoga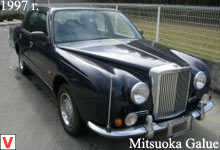 Mitsuoka Galue