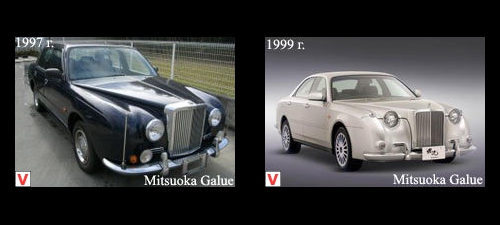 A retro-styled sedan named Galue first appeared in the Mitsuoka model range in 1996. The name comes from the Japanese word Garyu, which means "special style." The front of the car was styled as a classic Rolls Royce, and made using epoxy resin. The rear part was decorated with combined brake lights, stretched vertically, under which there was a chrome-plated bumper with decorative trim. Salon was offered in two versions: Standard and Deluxe with the front panel "under the tree." In addition, the 7-seater extended limousine was produced. The second generation (called Galue-II) saw the light in 1999.
A deluxe 6-cylinder V-engine with a volume of 3 liters was installed on the car of the Deluxe category, while the Standard car received a 6-cylinder V-engine with a displacement of 2.5 liters. In 2006, the third generation of the Mitsuoka Galue executive class sedan comes out. This model is the flagship of the company. The base for it was the Nissan Fuga. The majestic exterior is distinguished by a huge square chrome grille, round headlights, "knitted" alloy wheels and an abundance of chrome in the decor. The interior in all trim levels is decorated with panels of natural wood. A three-point seat belt with ELR (Emergency Locking Retractors) was installed for the backseat center seat.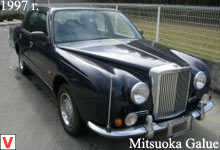 In addition, a complete set of Mitsuoka Galue with an engine capacity of 2.5 l / 210 hp. equipped with electric adjustable driver's seat, and also installed additional ventilation for the rear passengers. Mitsuoka Galue with a 3.5 l / 280 hp engine Received ribbed steering wheel braided from genuine leather. Both engines are paired with a 5-step adaptive "automatic".
In April 2007, Mitsuoka began selling in the domestic Japanese market for a Mitsuoka Galue gig. The car is painted in three colors: white, black and red. Salon of genuine leather is made in red or black colors.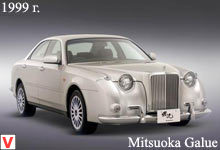 Other images auto Mitsuoka Galue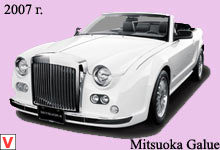 Other autos category Mitsuoka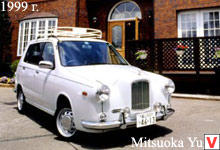 Mitsuoka Yuga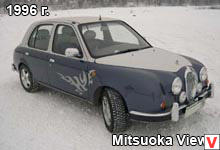 Mitsuoka Viewt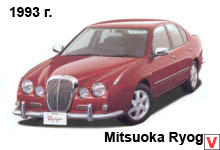 Mitsuoka Ryoga