In the winter of 2006, at the Detroit International Motor Show, Mitsubishi Motors unveiled a new generation Lancer sedan. In America, began its first sale. Lancer X has replaced the previous popular Lancer model, which has become a bestseller in Russia, having earned the trust of over 110,000 customers, and won the most prestigious awards and prizes of the Russian automotive industry. The new Lancer X was developed at the design office in Trebur, near Frankfurt (Germany). The sports sedan borrowed some of its features from the Concept-X concept car (introduced in 2005 in Tokyo), also developed in Europe.
This becomes apparent when looking at the pronounced wedge-shaped silhouette, aggressive front, deep-set headlights and a short trunk. The new Lancer X significantly exceeds its predecessor in overall dimensions, interior volume and body rigidity. Length increased by 35 mm (4570), width by as much as 65 mm (1760), height by 60 mm (1490), and wheelbase by 35 mm (2635). The car is built on the platform of "Project Global" - a new flexible architecture. This platform is the basis for several new Mitsubishi models, including the new Outlander XL mid-size SUV and the new generation Lancer Evolution sports car.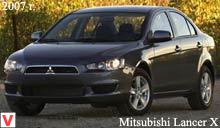 Lancer X is distinguished by a bright sporty look, stylish interior design and a variety of design options. Model made in Japan. Like all Mitsubishi cars supplied to Russia, the novelty is fully adapted for use in Russia. The Lancer X is an exceptionally reliable, spacious car with an individual style and excellent performance. At the heart of its concept are advanced technologies and a rich engineering heritage of Mitsubishi Motors, a manufacturer of legendary cars. Excellent dynamics Lancer X provides a new range of engines with and unique to the class "C" variable transmission with shift paddles gear.
The line of 16-valve 4-cylinder DOHC engines with aluminum cylinder block and proprietary electronic valve timing control system MIVEC provides high dynamic performance while complying with strict environmental standards. A choice of two petrol engines: a volume of 1.5 liters and 109 hp and a volume of 2 liters and 150 hp Mitsubishi Lancer with engine capacity of 1, 5 l can be equipped with a 5-speed manual gearbox or INVECS-II 4-band automatic transmission, and for cars with a 2.0 liter engine, a 5-speed manual transmission or a 6-band SportronicR CVT with shift paddles is provided petal type.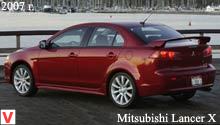 Mitsubishi offers three configuration options that differ in equipment level: "Invite", "Invite +" and "Intense". The basic equipment of the "1,5 Invite" offers the optimal set of necessary options: air conditioning, electric windows, electric drive and heated side mirrors, front airbags and audio equipment.
In the maximum configuration "Intense", available only for versions with a 2.0 liter engine, the vehicle equipment includes such options as climate control, a 6-disc CD / MP3 changer, 5 airbags, a sports suspension with stretching between the front shock absorbers pillars, leather-covered steering wheel with audio control, front aerodynamic cowl, painted in body color, front fog lights, rear spoiler and side skirts. For the time being, the most popular Mitsubishi model in the world is delivered to the Russian market only in the "sedan" body. In the future, the choice of body versions will be expanded due to the appearance of a "hatchback".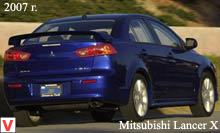 The official world premiere of the new Lancer Evolution X will be held in September 2007 at the Frankfurt Motor Show. Today, Mitsubishi has unveiled the official photos of the tenth generation Lancer Evolution. It is noteworthy that in Japan the car will be named Evolution X, but in other markets the Roman numeral "X" will not be used in the name. This charged car combines all the experience of a racing car and new high technologies of recent times. Evolution X is built on the platform of an ordinary Lancer, equipped with a sports suspension with all-wheel drive Super All Wheel Control (S-AWC3), as well as an active center and rear differential.
An advanced all-wheel drive system that combines an unrivaled level of engine torque distribution and brake control, making the Lancer Evolution X the best vehicle in its class.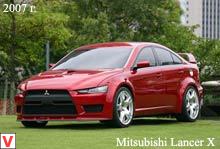 Other autos category Mitsubishi