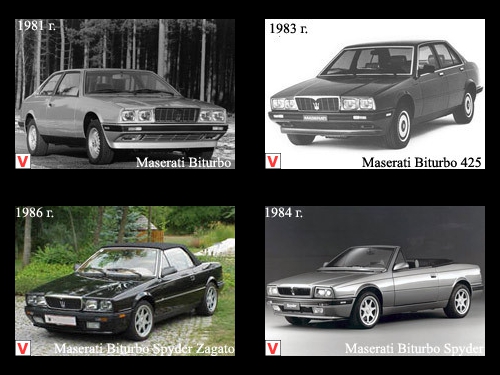 In 1975, the Maserati brand passes under the control of De Tomaso. The new owner, given the difficult financial situation, changes the production strategy. The era of supercars is a thing of the past. Priorities are given to a car that is completely different from previous Maserati models.
The development of such a car takes six years. The solution was Biturbo, which debuted in 1981. The model was made from scratch. Biturbo has a traditional layout with front engine and rear drive wheels. Under the hood is a V-shaped 6-cylinder engine with two turbochargers (one for each row of cylinders), three valves per cylinder and overhead camshafts. Engine capacity 1996 cm3, power 180 horsepower. He clocked the car to 216 km / h.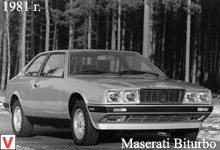 And the fuel consumption was acceptable. Throughout the release, the Biturbo series has been constantly upgraded. The appearance of fundamental changes is not acquired. Improvement, as a rule, affected power units. Was released a huge number of versions of this car. In 1983, Biturbo appeared with an index of 425 - a four-door version on an extended wheelbase with a 2.5 liter engine. In 1984, saw the light version of the Spyder with a shortened wheelbase.
Behind it debuts an elegant Spyder E roadster with a retractable soft top and bodywork from Zagato. On request, the car was supplied with a special cross-wheel differential Sensitork. Maserati Biturbo Spyder immediately became a real hit in his home country - in Italy, and after the world premiere it sold well all over the world. Biturbo 228 almost did not differ from the base car.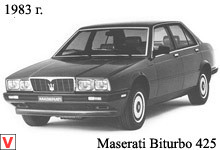 The name change is due to an increase in engine capacity to 2.8 liters (250 hp at 5500 rpm, 370 Nm at 3500 rpm). You can also find versions: Biturbo II, Biturbo S and Biturbo S II, Biturbo 420 and Biturbo 420 i, Biturbo i, Biturbo Si, Biturbo 420 Si and Royale (with a special trim and interior trim). In total, over the next fifteen years, on the basis of Biturbo, at least 25 models have been developed, differing from each other in appearance and "filling".
From the point of view of production, Biturbo was a very successful car. He ensured a sharp increase in sales: from 550 cars in 1980 to 3.5 thousand copies in 1989. The success of Biturbo surpassed the boldest forecasts, for the first time in the company's history its customers stood in line.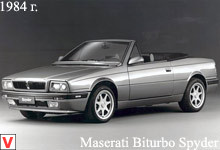 The release of this model allowed the company to get out of the next financial hole, where she landed after a short period of friendship with Citroen.
Other images auto Maserati Biturbo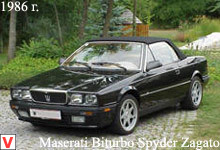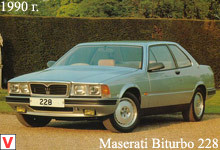 Other autos category Maserati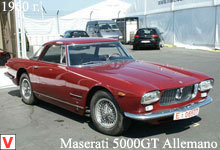 Maserati 5000GT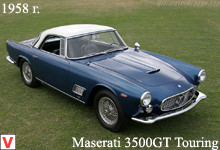 Maserati 3500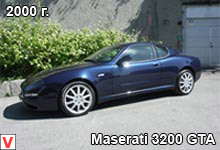 Maserati 3200GT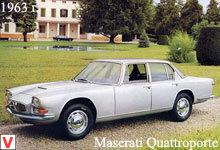 Maserati Quattroporte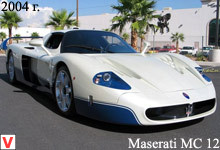 Maserati MC 12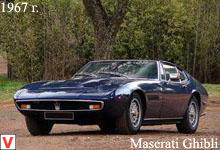 Maserati Ghibli