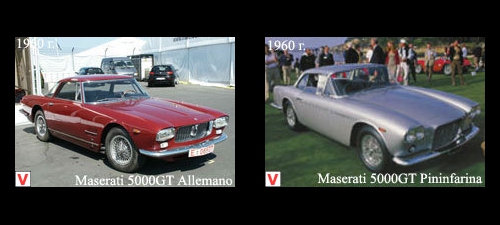 In 1959, a fateful tragedy occurred on the racetrack in Caracas (Venezuela). The trouble overtook the Maserati 450S. This misfortune was followed by huge financial losses on the order of technological equipment for sports cars. The company makes a difficult decision for itself to leave motor racing. As a result, Maserati has a small but very valuable supply of V8 engines for 450S racing cars. This prompted the company to create the car 5000GT.
The first show was held at the Turin Motor Show in 1959. The model was a combination of a 5-liter V8 engine with four camshafts and a chassis borrowed from the 3500GT, which received front disc brakes. The first batch of cars equipped with Weber 45IDM carburetors and 4-speed ZF gearbox.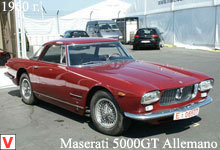 With a 325 hp engine. the car developed a maximum speed of more than 257 km / h, although its own weight was almost 1600 kg. The 5000GT was perhaps the fastest road car of the early 60s. When upgrading, carburetors were replaced with a Lucas injection system, which increased power by 15 hp.
compared to the original 325 hp, installed a 5-speed box and disc brakes on the rear wheels. Maserati took responsibility for the production of engines and chassis, entrusting the manufacture of bodies to leading Italian companies. Most of the bodies - 20 pieces - made Allemano, 4 delivered Touring, 2 - Frua and one by one - Pininfarina, Michelotti, Monterosa, Bertone and Vignale. The body model Maserati 5000GT 1961 created the company Ghia. Variants from Allemano and Michelotti were distinguished by block headlights - a great exotic at the time.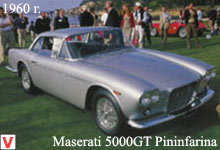 Future owners ordered chassis at the factories and then transferred them to famous body builders in order to dress them to the taste and desire of the customer. Among all the manually assembled cars it was difficult to find at least a pair of completely identical ones. Such handcrafted cars, extremely expensive and very fast, quickly raised the international prestige of the company Maserati.
She has become a recognized manufacturer of supercars. The Maserati 5000GT competed with the Ferrari V12. It was sold at a huge price. Total released a little more than thirty pieces.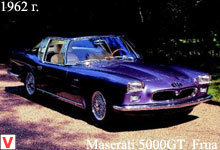 The first copy went to the Iranian Shah, all the rest were bought up by the "cream" of society, which the indecently high cost of this car did not deter. The body of the Shah car was created by the Milan company Carrozzeria Touring. It was made of aluminum. Its length with a wheelbase of 2600 mm was 4580 mm, width - 1680. Maserati 5000GT was produced until 1964.
Other autos category Maserati