The Lotus Seven (Lotus Super Seven) is a small, light-weight, open-top sports car that was first introduced by the British company Lotus Cars (also called Lotus Engineering) at the Earls Court Motor Show in 1957 and was produced by it until 1972. . Its predecessor was a fairly popular model called the Lotus 6, the production of which was completed in 1955. Above the creation of Lotus Seven worked English engineer Colin Chapman (Colin Chapman). When developing this model, Lotus adhered to its own philosophy of creation - light weight and simplicity of design.
The first series (Series 1 - "S1") of the Lotus Seven model, launched in 1957, was initially equipped with a Ford 100E engine with a power of 40 hp, which was paired with a 3-speed manual gearbox. Later, Coventry Climax engines were installed on cars (in those years, Covertry Climax was popular due to Formula 1) with a volume of 1097 cm³ or engines with a volume of 948 cm³ from Austin A-35, which were already completed with a 4-speed manual transmission from BMC ( British Motor Corporation). During the production of the first Lotus Seven series from 1957 to 1960, about 240 copies were produced. In 1960, the launch of the second series (Series 2 - "S2") Lotus Seven.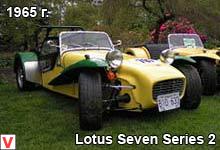 At first, the same power units were used as in the "Series 1". However, after some time (in the same year), they were replaced. The list of proposed engines now included: a new engine model from Ford - 105E with a volume of 997 cm³, and an engine from Austin Healey Sprite made by BMC. As for the remaining changes, the Lotus Seven S2 cars had a lighter frame, new front fenders and a fiberglass nose cone. Also in the design of the rear suspension appeared a longitudinal A-shaped lever, which continues to be used at present.
Since 1961, engines from the Ford Classic 109E with a volume of 1340 cm³ were used, and since 1962 they were replaced by engines from the Ford Cortina, 116E with a volume of 1,498 cm³. Just these latest models are called "Super Seven". There was also a tuned version of Cosworth, which became one of the fastest club racing cars at that time. In 1968, the third series (Series 3 - "S3") of the Lotus Seven model was released. Changes in appearance were minor - wider wheels and wings. The frame design of the car became tougher, and the rear axle was borrowed from the Ford Escort. In the same year, cars began to be equipped with a 1.6-liter twin-cam Twin-Cam engine.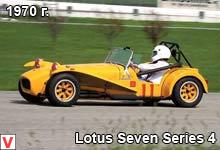 In 1970, the fourth series (Series 4 - "S4") of the sports car was presented. Both the exterior and its technical equipment were revised. It was designed with a simpler chassis with steel side panels and a spatial frame. The car body was made of fiberglass. From 1970 to 1972, about 600 sports cars of the fourth series were produced. In 1972, the rights to manufacture the Lotus Seven model, along with all its developments, were transferred to Caterham Cars Ltd.
Other autos category Lotus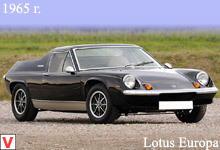 Lotus Europa
Lotus Esprit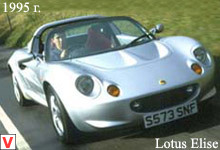 Lotus Elise