The Lincoln Versailles car is the first mid-sized car from Lincoln (Ford's luxury car division). Versailles was produced only in the sedan from 1977 to 1980. Lincoln Versailles was more of a response from Lincoln to the success of Cadillac, with the release of Cadillac Seville, which was released in 1975. Seville was developed on the basis of Chevrolet Nova and immediately after the release became a hit of sales. When Ford created the Lincoln Versailles by Ford, Ford Granada and Mercury Monarch were taken as the basis. At that time, Ford was having trouble.
Since their capital did not allow to sufficiently finance the division of General Motors and therefore the cars produced under the brand of General Motors were clearly similar to models from Ford and Mercury. And the Lincoln division, before the release of Lincoln Versailles, was planned as divisions for the creation of definitely exclusive cars, with an individual taste and style different from the rest of the divisions. But Versailles became an obvious clone of the Ford Granada, which was the reason for the extremely low sales volumes of the car on the market and a major commercial error for the company.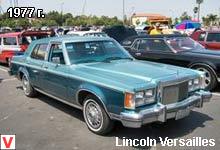 In the absence of funds, in order to offer a new body for Versailles, the designers decided to disguise the similarities. However, the replacement of the grille, wheels and the appearance of a "humpback" trunk lid, like the model of the Continental, did not really change the situation. Such minor changes could not hide the overall similarity of the concepts. Even the doors and windows of Versailles and Granada were interchangeable. But on the external similarities problems did not end. When buying a luxury car, the potentially wealthy buyer also received a similar salon with a middle-class car. Even the dashboard was like that of a Ford Granada.
The only thing that succeeded Lincoln Versailles - it was the first American car on which were installed halogen headlights. Initially, the Lincoln Versailles was going to install a 5.8 liter V8 carburetor. But due to the struggle for fuel economy, it was decided to install a less gluttonous 5.0-liter V8, which was also characteristic of the Ford Granada. The rear differential was also similar to what was installed on the Ford. However, the rear brakes were already disc, not drum. At least, the quality of the brake system Lincoln Versailles really bypassed the Cadillac Seville.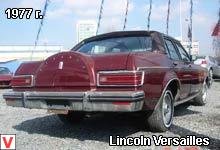 But the technical similarities of cars in the future had no unintended consequences. Despite the fact that the Lincoln Versailles was produced exclusively in the sedan, its details were successfully integrated into the Granada coupe. An unknown number of such transformations were made at that time, which in turn presented, which lost its popularity, Versailles as a donor. Also, exclusive parts have been successfully adapted to other models of Ford of this era.
Improvement of rear brakes was especially popular (drum brakes were replaced with disc brakes).
Other autos category Lincoln