At the end of 2006, at the Detroit Auto Show, the Ford company Lincoln unveiled a mid-size luxury SUV-MKX crossover. The car is based on the CD3 platform. The model is produced at a factory in Canada (Ontario) and exported to more than 40 countriesabout the whole world. This five-seater luxury car is made in a strict and dynamic style. Monumental appearance was given such features as a chrome grille, a wide powerful body, 18-inch alloy wheels and a double chrome exhaust pipe. Inside the MKX is very comfortable. For the driver and passengers are first-class leather seats with a special contour, which allows to reduce the pressure on the back and fatigue.
The rear seats have the largest tilt angle of all previous Lincoln models. Inside the spacious console there is a connector for the MP3 player. The built-in DVD player with a remote control can also read CDs.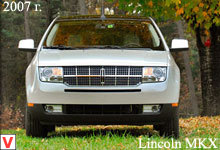 The on-board computer's built-in monitor displays all the necessary information from speed to fuel consumption, torque data. In addition, with the rear seats folded, The MKX's cargo volume is the largest in the class. In addition to excellent sound insulation, the cabin can boast of adaptive front headlights, which are pivotally connected to the turn signals, and allow you to see the road 60 meters ahead with extensive angular illumination. In addition to the entire LED panel gives good visibility of the entire width of the roadway. Under the hood, a 3.5-liter Duratec V-6 engine, 265 hp.
and torque of 340 Nm. In addition, the model is equipped with a six-speed automatic transmission, created by General Motors. In the basic configuration, the cabin has heated front seats and climate control. Plus a full set of airbags and curtains.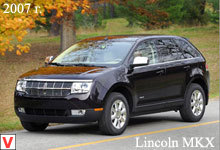 The list of additional equipment includes a panoramic glass roof, four-wheel drive and a DVD-navigation system. Above the MKX 2007 have already worked tuning specialists 3dCarbon. Thanks to the Euro Series body kit, the car has acquired European features.
All-wheel drive MKX is equipped with a new front air intake, side skirts, overlays on the doors and rear skirt, painted in color. MagnaFlow stainless steel tailpipes, slightly tinted windows from Sundial and front fenders with 3dCarbon air ducts add extra touches to the body design. The fully leather salon Katzkin is equipped with head-mounted monitors Invision Revolution DVD system. The MKX received the Special Sport Springs lowering kit from H & R and three-component seven-point cast 22-inch NC wheels with a floating center cap, shod in Pirelli 265/35/22 Scorpion Zero Asimmetrico tires. Not without scandal.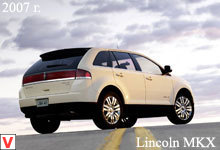 Honda sued Ford in January 2006, arguing that the MKX name was too close to the Acura MDX name, which would cause confusion among consumers. The lawsuit was settled in court. Ford officially changed the phonetic sound to "em-kay-ex" in July 2006.
Other autos category Lincoln