The Kia Pregio is a multifunctional minivan, which was first introduced by the South Korean car company Kia Motors in 1997. This model has replaced the previously produced car Kia Besta and is perfect for both cargo and passengers. The main competitor of this model was the Hyundai H100 minivan. The car body was carefully designed from the point of view of safety and is made of highly durable composite materials.
Specially designed body frame well protects passengers inside from all kinds of third-party effects. The wheelbase of the car was 2720 mm, length - 4570 mm, width - 1720 mm, and height - 1645 mm. Minivans were produced only in the 4-door body. It is worth noting that both passenger and cargo-passenger versions were offered. Passenger versions, depending on the configuration, accommodated 9, 10 and 12 people. A cargo-equipped with metal window plugs in the back of the body and offered with triple and six-seater salons. Initially, the Kia Pregio was equipped with a 2.7-liter four-cylinder diesel engine with an output of 83 hp. The power unit was paired with a 5-speed manual gearbox.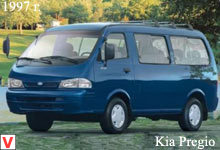 The main goal in creating a suspension for Kia Pregio was to ensure the smooth running of the car and to avoid jolts during uneven road surfaces. For this purpose, a special rear spring suspension was designed, which ensures smooth running even when fully loaded. The brake system included front disc and rear drum brakes. As for the interior, in the passenger versions it is quite attractive and very comfortable. Excellent finish, the ability to transform the cabin, for example, the second-row seats can be expanded and used as comfortable tables. In 2003, a new generation of minivans Kia Pregio. The body design was redesigned, which made the appearance of the minivan more stylish and dynamic.
Also, changes have affected the interior trim. She could now envy even a modern passenger car. The whole salon could now be made in leather with wood inserts. Air conditioning, seat heating, heated mirrors, airbags, alloy wheels, climate control are included in the vehicle package. Changed and the list of proposed engines. Now four variants of diesel power units were proposed: a 2.5 liter capacity of 94 hp.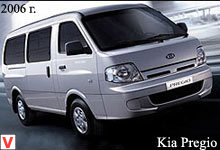 at 3800 rpm and torque of 227 Nm at 2000 rpm; volume of 2.7 liters capacity of 80 hp at 4000 rpm and torque of 304 Nm at 2400 rpm; volume of 2.7 liters capacity of 80 hp at 4000 rpm and torque of 227 Nm at 2400 rpm (possibility of equipping with an automatic transmission); volume of 3.0 liters capacity of 85 hp at 4000 rpm and a torque of 250 Nm at 2200 rpm. Along with a 5-speed manual gearbox, a 4-speed automatic transmission was also offered, which was installed for models with a 2.7-liter engine.
Other autos category Kia