If the cars were visited by a psychiatrist, Isuzu Rodeo probably would have received a diagnosis: "split personality". And it's not only that Isuzu Rodeo has several names and different incarnations. His sporty appearance, sense of confidence, which he gives to passengers and the driver, as well as passenger manners on the highway make it an excellent vehicle for the city and travel long distances. Rodeo's second personality manifests itself when you leave the highway in search of entertainment on serious off-road.
According to its "off road" qualities, this SUV "puts on the shoulder blades" not only all "SUVs" without exception, but also more serious competitors from the clan of real rogues. This is not surprising, because Rodeo has strong genes. The Japanese company Isuzu is known primarily for its trucks and diesel engines. The car is derived from the Japanese Isuzu MU model (Amigo) with a 3-door body on a short base, which was shown in 1989. At the SIA plant (a joint project with Subaru - Subaru-Isuzu Automotive Inc.) in the US state of Indiana in 1990, production of the Rodeo model began.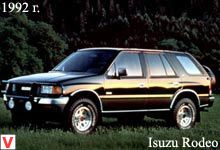 Models Amigo / Rodeo / MU / Wizzard second generation (since 1998) belong to the class of "parquet" off-road vehicles. Even the basic version is rear wheel drive. The abundance of names reflects the multiplicity of markets in which models adapted to local conditions are sold. This car with minor changes in the design was also sold under GM related brands Opel (Frontera), Honda (Passport / Jazz) and Holden Rodeo (the last two are discontinued in 2000 and 2002, respectively).
The design of Rodeo and Rodeo Sport (GM400 unified platform of the GM group) can be considered typical of the 90s SUVs: spar frame, rigid rear axle with a system of levers on springs, independent front suspension with double wishbones and torsions, longitudinal engine with basic drive on the rear axle, a simplified all-wheel drive system without a center differential with the ability to connect the front axle only on the roads. Rodeo is offered to customers in a variety of ways. For example, in the USA (which traditionally are the main consumer market of Japanese trucks), you can choose one of 20 Rodeo models in the range of prices from 15.5 to 31.4 thousand dollars.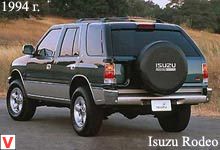 There are three body types: a short 3-door station wagon with a hardtop roof or a soft removable soft top called the Amigo and a 5-door station wagon. The five-door Isuzu Rodeo on the elongated base is more spacious and comfortable. Isuzu Rodeo chassis and power units are similar to Amigo. All models have a frame frame chassis with drive only to the rear (4x2) or all-wheel drive (4x4).
As a power unit using a 2.2 liter 4-cylinder gasoline engine with a capacity of 130 hp with manual transmission. There are two types of transmissions - regular, with rear driving wheels, and all-wheel drive with the connection of the front wheels in part-time mode, i.e. without center differential for roads with slippery or snow-covered surfaces. Power units for the United States include only the 2.2-liter petrol "four" in 131 hp.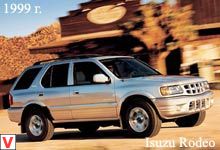 and a 3.2-liter V6 engine in 208 hp, as well as mechanical or hydromechanical automatic transmissions. In Japan, MU / Wizard models are equipped with a 3.2-liter engine producing 215 hp. Already in the basic equipment, all-wheel drive versions are not badly equipped - there is also air conditioning, cruise control, and central locking, you can order a leather interior, a CD changer, and a version with an electronically controlled accelerator pedal. The back seat folds in the proportion of 60:40, the rear door, which consists of two halves, is very conveniently made - the upper one opens upwards and the lower sideways.
In 2002, the interior was somewhat "retouched" (modern finishing materials, new steering wheel, instrument cluster from Axiom, improved dashboard and center console). Despite the modernization, the design and design of Isuzu Rodeo today are frankly outdated. Production of Japanese Rodeo models (Wizard / MU / Rodeo) was discontinued in January 2003 - henceforth, the Japanese company Isuzu Motors Ltd produces only commercial vehicles.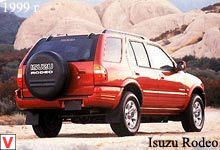 Other images auto Isuzu Rodeo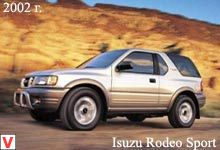 Other autos category Isuzu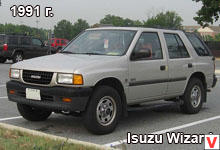 Isuzu Wizard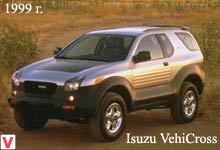 Isuzu VehiCross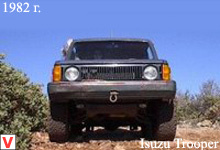 Isuzu Trooper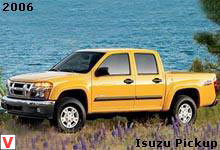 Isuzu Pick Up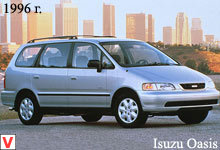 Isuzu Oasis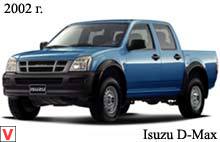 Isuzu D-Max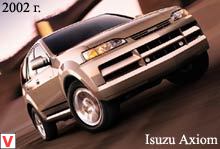 Isuzu Axiom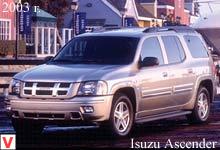 Isuzu Ascender