Under the Isuzu brand in various years made several modifications of pickups. From 1983 to 2002, pickups of the domestic TF series were sold in Australia and New Zealand under the name Holden Rodeo, in Colombia, Chile and Ecuador Chevrolet LUV, in Egypt Chevrolet T-series El Dababah, in China Jinbei, in the Philippines Isuzu Fuego, in North America Chevrolet LUV and Isuzu P`UP, in South Africa Isuzu KB, in Thailand Isuzu 2500Di, in the UK Vauxhall Brava, and for the Western European market - Opel Campo. Isuzu TF was produced with cabs of Regular Cab, Extended Cab and Crew Cab, was equipped with gasoline and diesel engines and equipped with a drive only on the rear and all-wheel drive.
The release of the TF series ended in late 2002 with the start of production of Isuzu D-Max, which replaced the TF worldwide. Since the fall of 2003, the GM plant in Shreveport began assembling a generation of Chevrolet Colorado compact pickup trucks built on a unified GMT platform. The design features are more durable (compared to the previous version) and torsion and bending rigid frame made by hydroforming, a new design of the front independent suspension (spring for 2WD and torsion for 4WD), as well as inline multi-valve engines. At the same plant in parallel, single-platform pickups GMC and Isuzu were assembled.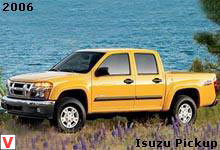 In the fall of 2006, sales of modernized versions of Isuzu pickups began in the United States and Canada, which in 2007 received a new, concise name for the Pickup, which is completely similar to the Chevrolet Colorado models. Cabin types - single Regular Cab (up to 3 passengers), one-and-a-half - Extended Cab (up to 5 passengers) and double cabin Crew Cab (up to 6 passengers); front seat split or with a common pillow. Dimensions of models in the modification of Regular Cab 4887/1717/1648 mm with a base of 2827 mm and a base of 1461/1461 mm. The curb weight is 1498 kg, full 2200 kg.
For 2008, 6 complete sets are offered, including the simplified finishing commercial versions of Work Truck and Chassis Cab. Their equipment includes electric windows and mirrors, power steering, brake booster, power supply system, 2PB, air conditioning, audio system with CD, as well as on request: lowered rear window, engine heating, side airbags, heated leather seats, OnStar satellite system and digital XM, ABS radio, TC traction control system and self-locking rear differential. The space inside the cabin is increased, the level of comfort is increased.
Steering column adjustable. Since 2007, new pickups have received new Vortec engines with a DOHC gas distribution system. On a pickup i-290 with a one-and-a-half cabin, a 2.9-liter R4 16V engine with VVT (185 hp, 258 Nm) is installed, and on a Pickup I-370 with a double cabin - 3.7 liter R5 20V (242 l. s., 328 Nm).
Both engines are fitted with a basic Aisin 5-speed manual gearbox or with an optional 4-speed Hydra-Matic automatic transmission. All-wheel drive versions are equipped with a system of plug-in all-wheel drive Insta-Trak with a 3-mode transfer gearbox (2HI / 4HI / 4LO). Permanent all-wheel drive is driven by a button on the panel. The rear differential is self-locking, even on the rear-wheel drive version of the 2WD, as is the traction control. In the rear suspension used traditional for such cars hard bridge on multi-leaf springs. Brakes front ventilated disc, rear drum. The standard tire size is 265 / 75R15.
Other autos category Isuzu