The Isuzu Oasis is a minivan produced by the Japanese car company Honda from 1995 to 1999. for export to the USA. This model was a clone of a famous model called the Honda Odyssey. The automakers Honda and Isuzu entered into an agreement at the time. Its essence was that Honda licensed it could produce Isuzu Rodeo and Isuzu Trooper models under the names Honda Passport and Acura SLX, respectively, and Isuzu, in turn, received a license to produce Honda Odyssey and Honda Civic models under the names Isuzu Oasis and Isuzu Gemini respectively. Therefore, in fact, Isuzu Oasis was the same Odyssey model, but only with a lower price.
However, Oasis enjoyed much less demand, since the Honda brand had a greater sympathy among buyers. The car Isuzu Oasis had the same technical equipment as its "twin" Odyssey. Under the hood, there was a four-cylinder SOHC engine with a volume of 2.2 liters, whose power was 140 hp. As for the transmission, the minivan was equipped with a 4-speed automatic transmission. The brake system included disc brakes with anti-lock braking system ABS (Anti-lock Braking System) on all wheels. As for the interior, it was quite comfortable. It is worth noting that the car was already equipped with three airbags as standard.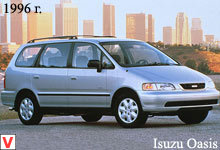 Two versions of a complete set were offered, which bore the names S and LS and differed in the number of seats. The standard S configuration included seven seats: 2 front seats, in the middle there was a 3-seater bench, and the back row included a 2-seater bench. In contrast to the S-configuration, in the LS version (with a six-seater saloon), the middle bench was replaced by two separate seats. In both trim levels, the middle row of seats could be dismantled, and the two-seater rear bench took shape. In 1997, the Isuzu Oasis minivan received updated side mirrors that were painted in body color, unlike the previous ones, which were black.
In 1998, the 2.2-liter engine replaced the new 2.3-liter SOHC power unit with a variable valve timing system VTEC, whose power was 150 hp. A similar engine can be found in the sixth generation Honda Accord. In 1999, Honda made significant changes to its Honda Odyssey model, and the Oasis model continued to be made in the previous concept. But the model, which was not particularly in high demand, could no longer compete with the updated version of Odyssey, which was the reason for the completion of the production of the Isuzu Oasis minivan this year.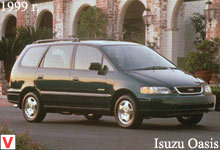 Other autos category Isuzu