Ascender was first shown at the Motor Show in New York in April 2002. This SUV was replaced in the model range of the company car Trooper. It was developed in the USA by design and design departments of the concern General Motors, which owns a 50% stake in Isuzu, on the platform of GMC Envoy XL. In order to reduce the cost of development and unification of the exterior of the car subjected to minimal changes, there were new chrome grille with six brand slots, slightly modified front bumper and headlights. Ascender is assembled at GM's plants in Moiraine (Ohio) and Oklahoma City (Oklahoma).
The car is offered in two versions - a basic 5-seater (4868x1897x1826) and an extended 7-seater (5273x1932x1917) with a wheelbase of 2,869 mm and 3,277 mm, respectively. The seven-seater version has become the flagship of the model range, especially since this is the first seven-seater SUV company for all its existence. Increased length allowed to place in the back of the car an additional third row of seats. Access to it is facilitated by a wide rear side door and an easily foldable backrest of the second row of seats.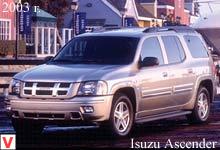 Among the design features are a lighter and more durable frame made by hydroforming, a fully independent spring front suspension and a rear axle on five longitudinal and diagonal levers. The exterior is not replete with delights, but it is quite attractive, Isuzu brand features are visible clearly. Ascender is distinguished by 17-inch alloy wheels, sporting e-fenders and moldings on the sidewall of the body. The base for both versions is a 4.2 liter R6 24V overhead valve engine (275 hp 373 Nm), and an optional 5.3 liter V8 16V motor (300 hp, 407 Nm) is installed on the Ascender 7-Passenger.
Transmission manual 5-speed or 4-speed "automatic" with overdrive. The transmission is either rear-wheel drive or an optional Autotrac all-wheel drive with automatic front axle connection, 4-razdatka and locking center differential in 4Lo mode. Ascender is offered in three trim levels - S, LS and Limited. Electronic stability system and ABS - standard items. Side airbags in two rows are options. The LS package includes traction control, a differential with increased internal friction, a sunroof, a CD changer and a roof rack.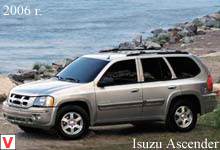 In the top version of the Limited Limited instrument panel and console are finished with expensive plastic "under the tree", and the seats, steering wheel and gear selector lever are covered in leather. The list also includes heated seats, a Bose audio system and adjustable pedals. In February 2006, the seven-seater Isuzu Ascender was discontinued due to the closure of a plant in Oklahoma, USA.
Other autos category Isuzu