In 2002, Infiniti introduced the I35, the heiress of the I30. The new name suggests an increase in engine size from 3-liter to 3.5-liter. The power of the V-shaped 6-cylinder engine is 255 horsepower.
The power unit has a NVIS valve control system, a VDC proprietary stabilization system, a TCS thrust control system, and an advanced electronic braking system (ABS, BA, EBD). The engine is one of the components of the success of the Infiniti I35. The power unit of the VQ series is one of the best among analogs and demonstrates the technical delights of Infiniti: molybdenum-coated, lightweight pistons, a muffler with a variable volume, individual ignition coils for each candle. The candles themselves are platinum-coated and require attention every 100,000 miles! The model is equipped with a new 4-speed automatic transmission. Optionally, you can install and 6-speed gearbox.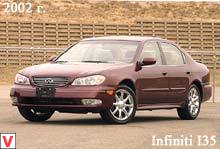 The Infiniti I35 was not only equipped with a new engine, but also very stylistically brought closer to the new flagship of the company, the Q45 model. The front and rear of the car were redesigned, new xenon headlights appeared. Changed the shape of the trunk lid, the design of the grille and bumpers, taillights covered with transparent caps. Infiniti I35 is built on the Maxima platform, but with more luxury. The model uses a front-wheel drive platform, the same suspension as the Maxima, but more suited to a luxury car. The base of the car is 2750 mm.
Dimensions (length, width, height) - 4919x1783x1447 mm. Interior design allows you to comfortably accommodate five adults. In the interior, pleasant little things have taken root, like a servo-assisted rear window sunblind; The driver and passenger seats have eight and four electric adjustments, respectively. It is curious that the firm decided not to limit itself to heated seats, and even equipped it with a steering wheel. The Infiniti I35 comes standard with leather trim, 17-inch, 6-spoke rims, a 200-watt Bose sound system with 7 speakers and a 6-disc CD changer.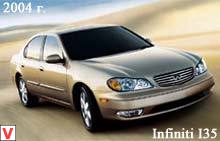 In addition, the standard equipment offers: anti-lock brakes, traction control, dual front and side airbags. Plus a new seat belt system LATCH. Additional equipment for the Nordic countries includes: heating of the front and rear seats, as well as exterior mirrors and steering wheel. Summarizing all the above, we conclude that the Infiniti I35 has a powerful engine, rigid chassis, improved suspension, excellent maneuverability, a powerful sound system, as well as trim with leather and wood.
Other autos category Infiniti