Under the name of Hyundai Verna, the sixth generation of Hyundai Accent widely known in our country is sold in Russia, and in Korea this front-wheel-drive car has always been the Verna. Verna debuted as a pre-production prototype at the New York Auto Show in April 2005; In January 2006, a show was held in Detroit, in March of the same year, a European presentation took place in Geneva, and in September at the Moscow Motor Show. Production Verna / Accent VI in Ulsan (South Korea) began in January 2006, and in the summer - at the Hyundai plant in Beijing. Verna is available in sedan and 3-door hatchback. The car is built on the platform of Kia Rio.
Dimensions 4280/1695/1470 mm with a base of 2500 mm and 1470/1460 mm track. Curb weight of 1058-1166 kg, depending on the type of transmission, full - 1580 kg. The model characterizes a dynamic exterior. The Verna look was developed in Europe at the Hyundai design center in Rüsselsheim.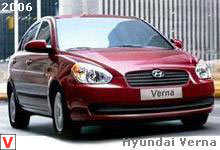 From its predecessor, produced since 1994, the car has a high level of comfort and safety. In the Russian market are offered cars in six trim levels; The basic equipment list includes driver's PB, electric power steering, central locking, immobilizer, audio package, child seat mounting system, cabin filter, and ABS for extra charge, electric windows and mirrors, heated front seats, air conditioning, additional PB, fog lights and much more. All Verna, offered in Russia, have local specifics: reinforced suspension, increased ground clearance, galvanized body, anti-corrosion treatment, adaptation to gasoline with an octane number not lower than 91.
Salon Verna from light finishing materials is simple and capacious for passengers of medium height and build. The driver's seat is tough enough, equipped with settings in two planes. Landing high, providing good visibility. The steering wheel is height adjustable.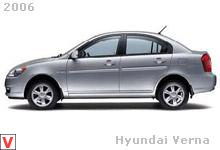 Devices are designed concisely and well read. The luggage compartment is quite roomy - 390 liters, it can be further increased by folding in parts in the ratio of 6: 4 rear seat backrest. In the trunk niche is a full-size spare tire. Verna is equipped with transversely located gasoline 4-cylinder 16-valve engines: 1.4-liter (97 hp / 6000 rpm; 125 Nm / 4700 rpm), known for Getz II, and 1.6-liter (112 l. pp., 146 Nm) with VVT phase shifters, as well as 1.5 liter turbodiesel R4 16V (110 hp, 235 Nm) with CRII. And in North America, only 1.6-liter engines are offered, and in Russia and China - only 1.4-liter engines.
Accelerating dynamics of the "Russian" Verna 12.3 with up to 100 km / h, with a gun - 14.5 with. The maximum speed reaches 177 km / h, and the consumption of gasoline is 8 liters in the urban cycle, 5.1 liters in a country and 6.2 liters - in mixed. Engines are aggregated with a 5-speed manual transmission or with a 4-speed automatic.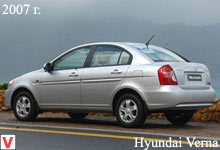 Unlike the Accent, Verna has a modernized independent MacPherson strut front suspension with springs and anti-roll bar and a new semi-independent rear axle on linked wishbones, providing better controllability. Front ventilated disc brakes, rear drum without ABS and disc with ABS. For a fee, in addition to ABS, you can install a traction control system. The standard tire size is 175 / 70R14. The car behaves well on the road with a smooth surface. Sustained suspension stiffness.
The electric power steering is informative and predictable, the chassis is tuned for active driving style, the brakes are tenacious, and the 97-hp engine, combined with low machine weight, provides good acceleration for urban conditions and sufficient power on the highway.
Other autos category Hyundai