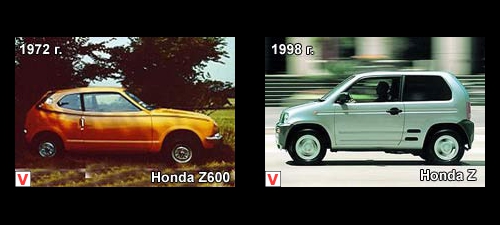 The Honda Z is a two-door compact crossover that was first introduced by the Japanese car company Honda in 1998. A similar model with the letter "Z" in the history of Honda can be found in 1970, when a two-nuclear compact car was released under the name Z600. At that time, two variants of a two-cylinder engine of 354 cm3 and 598 cm3 (for export cars) were offered for this small car. The power of these engines was in the range of 30 to 36 hp. Two transmissions were also proposed: 4-speed and 5-speed manual gearboxes. Production of the Z600 was completed in 1974.
Let us return now to the modern model called the Honda Z. The total between the 70s model and the 98 model, probably only one thing, is that they both are small cars, but the technical equipment is of course completely different. Externally, the Honda Z car was quite similar to its counterpart in the workshop - a model called the Honda SMX, but its equipment looks more like another more well-known model from the Suzuki company called the Jimny. Honda was able to create something like a small SUV, but this does not mean that the car is designed for severe off-road, although it has all-wheel drive.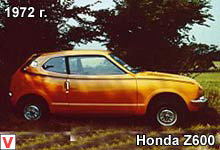 Model Honda Z is quite suitable for a broken country road, but no more, in this, by the way, it was inferior to the model from Suzuki. The Honda Z was equipped with a 3-cylinder 12-valve SOHC engine with a displacement of just 660 cc, and two types of powertrain were offered: a 52-horsepower engine with atmospheric air intake and a 64-horsepower turbocharged engine. The engine itself was located under the rear seats. There is also a transmission.
This unusual arrangement of the units made it very difficult to maintain the vehicle. To replace the air filter, it was necessary to hang out the rear wheels, and to replace the timing belt, it was necessary to disassemble the suspension. The car was equipped with a 4WD Real Time all-wheel drive system, in which in the normal road mode the front wheels were leading, and if necessary, the rear wheels were automatically connected to them. It is worth noting that the Honda Z also had excellent stability. since the center of gravity of the car was under the front seats. It is also noteworthy that the compact 15-inch wheels were installed, which are perfectly suited for bad roads.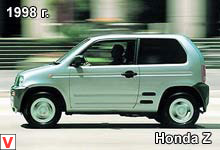 As for the cabin of the Honda Z, it was quite cozy, except that the rear seats are not quite comfortable for passengers, but they were perfect for using it as a place for luggage.
Other autos category Honda